Main Class:
As a team of 2 follow complete 18 rounds each for time of:
5 Deadlift (225#/155#)
5 Up And Over Box Jumps (24″/20″)
100m Sprint
*  Each partner completes 9 rounds (Alternate each round w/partner) 
** One bar, one box. DL must be unbroken each round or team will stop and complete a 10 burpee penalty before continuing. Scale appropriately!
Advanced RX Class:
Strength WOD:
3/3/3/3/3
High Bar Back Squat
"Last Ascent":
5-10-15 reps each for time of:
Back Squat (225#/155#) 
Box Jumps (24″/20″)
Rest 3 minutes then complete:
3 Minutes of max rep Rope Climbs 15′ 
Results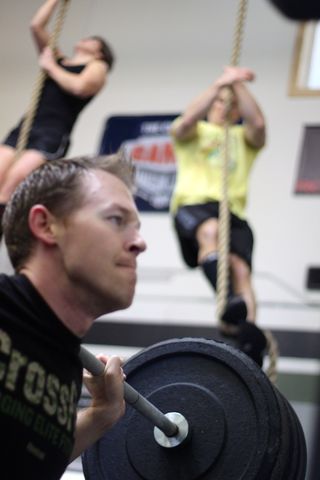 Fun in the sun today. The team event for main class was intended to be a sprint drill and the split times seemed to work perfectly while the advanced class was to work strength, then conditioning of the posterior chain (similar to main class) and then a gymnastic skill in max rope climbs. I love coaching Saturdays!
Note: If you are submitting an essay for the Stop the Slop Essay Challenge you have until 2/7 Thursday EOD to submit it to us. Electronic version is preferred (email, word doc, PDF).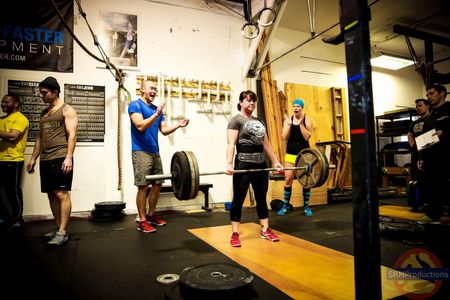 Quote of the day: "The missing link in so much mainstream fitness programming, from bodybuilding to monostructural endeavors, is the neuromuscular piece—in particular, the development of coordination, accuracy, agility, and balance. We can sum these elements up as "technique." Omitting them from one's training necessarily results in only partial fitness, partial expression of one's genetic potential, and a decreased threshold of maximal capacity. To increase work capacity across broad time and modal domains (the goal of CrossFit), technique is the crucial connection—whether your goal is to win the game, protect your life, complete the mission, or just be fit for the demands of everyday life at any age." ~ Greg Glassman
Why do we snatch, clean and jerk so much? These technical lifts have the greatest capacity of all the lifts at metabolic development and neuromuscular efficiency.
"Amanda" WOD Demo with Cara Hipskind and Kayla Baumgardner – video [wmv] [mov] [HD mov]