Saturday WOD:
In Teams of 2 Complete 10 Rounds for Time: 
5 Deadlifts (275#/185#)
10 Box Jumps (24″/20″)
100m Run or 125m Row
 
* One bar, one box, one rower. One works at a time. Tag up each round with your partner.
Advanced RX Class WOD:
As Many Rounds As Possible in 15 Minutes: 
1 Rope Climb (15'/12′)
10 Ring Dips
20 Wall Balls (20#/14#)
Results
Post WOD: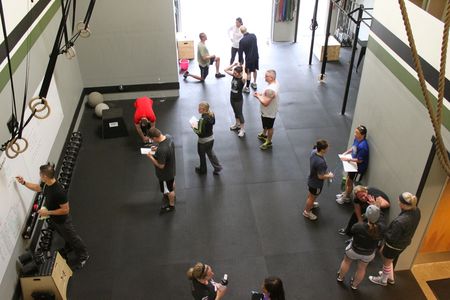 Two awesome classes today! Good turnout, good energy and good times!
Are you trying to lose weight? Read "17 Reasons You're Not Losing Weight" by Mark's Daily Apple
Are you trying to gain muscle and pack on some pounds? Read "How to Gain Weight and Build Muscle" by Mark's Daily Apple
CrossFit Games 2011 Regional Update 4.1 [wmv] [mov]
Some of you have been asking what Mark's big balls are for? Why did he leave them in the box? Well here you go…