For time: 
400m of Walking Lunges 
Trailing knee should gently kiss the ground with each lunge. Keep the knee behind the toe box.

Results
Day 16 of the Burpee Challenge. 34 more to go!
Lucy's dog is even CrossFit! Putney needed company on her walk so what better way than to do it with a bunch of crazy CrossFitters and 400m of walking lunges? Tell us how sore you are tomorrow.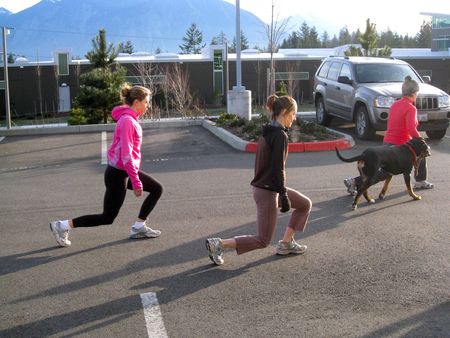 Notes:
Tomorrow morning we will join many local CrossFit affiliates that will host the Fallen Lakewood Police Officer's "Lakewood 4 Memorial WOD" and fundraiser. 

We will run waves at 10 or 10:30 am. (SRCF Affiliate Cup team members come at 11am). We will run teams of two or solo. We ask for any donation to the cause which we will collect and ensure it goes to the right folks who put this together. If you write a check please make it out to the "Fallen Officers Fund". If you bring cash we will make sure it gets donated as well. Let's do our best to help the families of these victims and show them the CrossFit community cares! We also will take a group photo to send to the organizers so they can present pics of all the affiliates who participated to the Lakewood PD.