Gymnastics Skill Work:
Handstand Hold and Handstand Walk practice
12 Minutes
Main WOD:
5 Rounds for Time of:
15 Med Ball Clean to Wall Ball Throw (20#/14#)
100m Run
7 Chest-to-Bar Pull-ups
100m Run
Results
View this photo
View this photo
Who loves the med ball clean to wall ball throw? Besides some conditioning today this workout emphasized the clean which you will see again tomorrow. More Oly work!
Thanks Coach Mark for the new warm-up and group stretch and props to those who were able to complete the handstand walk puzzle today. Rob W. did the whole puzzle with no breaks!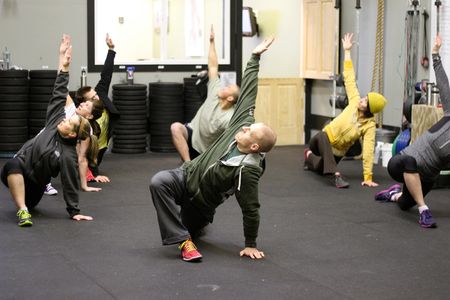 "Don't Make My Mistakes: The 10 Things I've Learned From Doing CrossFit" from CrossFit NYC
We are finally taking a vacation. Granted it's only two days this weekend but for us that is a huge freaking deal. So much that my daughter has been babbling non stop about PACKING for it. She wouldn't go to sleep tonight and asked every question possible about where we are going and what we are doing that I fear she is in for a pretty epic disappointment if there aren't giant pink Easter bunnies, dolphins, whales and unicorns singing on the Washington coast to her the minute we drive up to our Barbie Malibu Cottage complete with a seashell roof and her own private jacuzzi tub.
That said I have to say we are excited for a short 2 day getaway. Why am I sharing this? Because other than the Games this is pretty much our first vacation and time away from the gym in a couple years. Lame. What's cool is that we have such an awesome group of coaches that are willing to cover for us and each other when life gets in the way of CrossFit (as crazy and unbearable as that thought is). Thank you to all of our coaches who are beyond awesome and especially for letting us take a couple days as a family to recharge and do handstands on the beach. See you all Monday. We're off to find Easter bunnies, sea shells and dolphins.
* Note to avoid confusion there is NO change to Fri./Sat. classes. They are covered! Get your butts in the gym!