Pre WOD: Spend 10 Minutes working on Handstand Walks/Holds or Handstand Push-ups
10 Rounds for Time of:
5 Pull-ups
10 Push-ups
15 Squats
Results
View this photo
View this photo
Task Priority Cindy: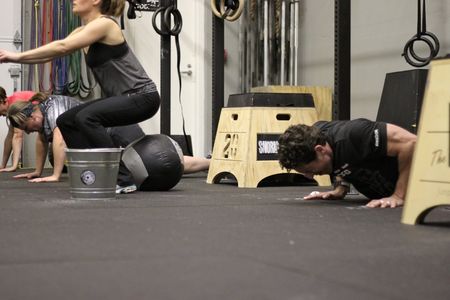 Anyone who did this workout today now should be able to set a target for a full "Cindy" which is 20 minutes to get as many rounds as possible of the above sets. 
The Open begins on Thursday. How does this effect everyone? Well if you come in on Thursday to hit a workout then you will be doing the Open WOD for that week. Each week for 5 weeks from Feb. 22 to Mar. 25 we will program the Open WOD every Thursday. Each class will divide up and go in two waves. One wave will judge while one wave kicks ass. Yell time and switch and do it again for wave 2.
If you are one of the 26 so far who have registered to compete in the Open then you will be paired with someone who is comfortable and capable of judging range of motion and quality of reps as well as able to count AND no-rep as needed. It will also be that person's duty to help you find that little dark corner in your mind that allows you to tap some raw intensity for those precious few minutes of each workout and make each and every rep or second count.
If you miss the Thursday Open WOD and are a registered competitor then you will have a make-up opportunity for that week on Saturdays at 11am. Plan ahead. You need to make one of these times. We will have other times for coaches who will be planning to fit in their WOD's as well (as we also have to compete in addition to running classes and the gym) so these will be ad hoc for the coaching staff to help them maximize their preparation and output. They will be random and we may need your help for a judge or two from time to time throughout the Open.
Thinking about the Open?
Notes:
Schedule Change to Advanced RX Class and Update on the Open:
Beginning Sat. 2/25 (next week) we will be suspending the Advanced RX Class for the duration of the CF Games Open (ends 3/25).
Note – The 0930 Class will NOT change. Come one, come all, we will adapt and overcome! You WILL still get your ass kicked during main class regardless of how bad-ass you think you are. 🙂
**This is to have the availability to run competitors who miss the opportunity to complete the Open WOD on Thursday**
1. Each Thursday during the Open we will make that workout the WOD for the entire gym. This way everyone gets to participate and experience the workouts.
2. All should plan to be paired up during class to ensure a partner is judging. Competitors will be paired with someone who is confident in judging movement/rep counting.
3. The primary day to complete the Open WOD is Thursday each week.
4. Makeup/alternate day for the Open WOD is 11AM each Saturday after the main class time ends.
5. We strongly encourage anyone thinking about competing in the Open to register and just try it! It's a good test to see where you fall among the world of crazy CF'ers.
Last thing: We may change this plan as we go so please be flexible. it's only 5 weeks long but all plans go to crap at the first sign of contact.