Main Class:
Partner up and complete "Team 300" for Time:
25 Pull-ups
50 Deadlift (135#/95#)
50 Push-ups
50 Box Jumps (24″/20″)
50 Floor Wipers (135#/95#)
50 Kettlebell Clean and Jerks (35#/26#) Alternate 25 reps per arm
25 Pull-ups
* Athlete 1 begins a 400m run while Athlete 2 begins completing the listed exercises above. Switch after Athlete 1 returns from the 400m run and continue to alternate working/running until all reps are completed.
Advanced RX Class:
"Lynne"
5 Rounds for Max Reps:
Bench Press (Bodyweight) for max reps
Pull-ups for max reps
* Rest as needed between rounds, no rest between bench and pull-up max attempts
Results
Feet down and feet up – Benching and Floor Wiping: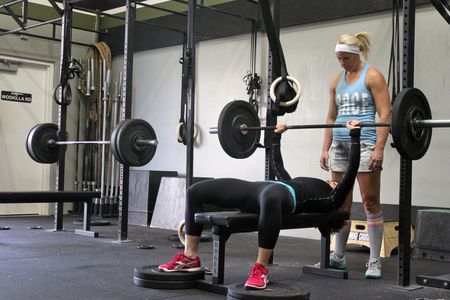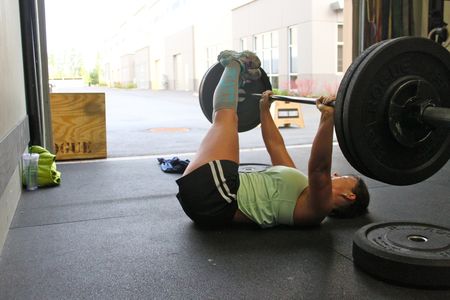 Yesterday after the Main Class but before the Advanced RX Class everyone kinda milled around. People kept asking when Michelle was going to show up (I know it's a surprise that she was late for once). I assumed it was just that all the women (plus Sean) really wanted to get their chatting on. When she finally walked in everyone gathered around and surprised us with a Christmas surprise that Santa could not top: a date night off from the box, kiddo and dog; reservations at the Westin hotel, massage for two and a classy dinner! 
We are extremely thankful and humbled by the incredibly generous Christmas gift from all of you in the SnoRidge family. Thank you all for everything and we can't wait for our night out in a couple weeks. We love you guys! Jingle BAM!
Notes:
Christmas Schedule:
Normal week Monday through Thursday
Friday 12/23 we will only have 0830/0930/1130 classes, no PM Classes!
Saturday 12/24 will be our Annual Christmas Eve WOD and we will have 2 class times, please sign up on the whiteboard: 

9:30 am and 10:45 am (No Advanced Class, sign up for one of these times in the box)

Monday 12/26 we are closed!
This box is amazing. Even cooler is they live in it. "CrossFit Flagstaff: A True CrossFit Home" with Lisa Ray and Mike Ray,CrossFit Journal preview video [wmv] [mov]

Jeremy having fun with Handstand Walk Sled drags: