In teams of 2 complete as many rounds as possible in 20 minutes of "1 Round of The Chief":
3 Power Cleans (135#/95#)
6 Push-ups
9 Squats
* Alternate with your partner each round at a time. Score total rounds as a team completed.
Results
View this photo
View this photo
Maggie Push Jerks: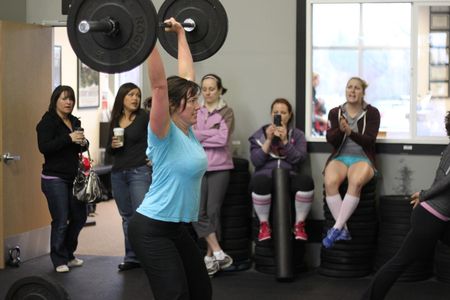 Big Saturday! OnRamp was buzzing early this morning with moans and groans of sore quads and the pain of wall balls followed by a tough team WOD for the main class. This one turned out exactly like I hoped. Fast intervals of work and rest, a lot of rounds piled up between the team (yet not excessive), and something that hit the whole body with two bodyweight movements and nothing overhead. Making this a team event meant you had to work hard for your teammate and put the pressure to try not to stop moving until you completed your round. 
We wrapped up with the rest of the crew who hit the suckfest known as Open 12.3. Wave after wave of 18 minutes of gasping, jumping, and pushing. The cheering and energy was enough to push everyone through (despite several who are still recovering from the Zombie Plague) and we had some great PR's to boot!
Fist bumps with huge explosions to those who rang the PR bell today! Nothing was more memorable about today than Shannon overcoming her fear of 20″ box jumps and getting not only 1 but 3 of them to the cheering of the entire gym. Maggie added both box jump and push press PR's and Mark PR'd his second go at 12.3 over at CF Marysville with an even 10 rounds. Coach Sean even did a real push-up or two! I can't wait for next week…
Shannon celebrates: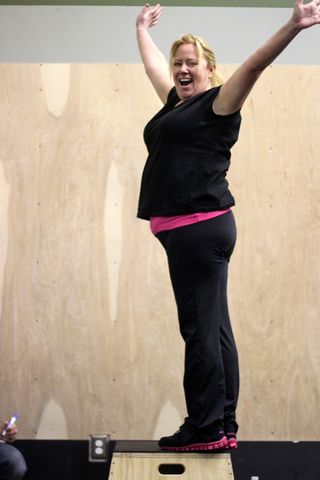 Sean actually does a push-up to make me proud: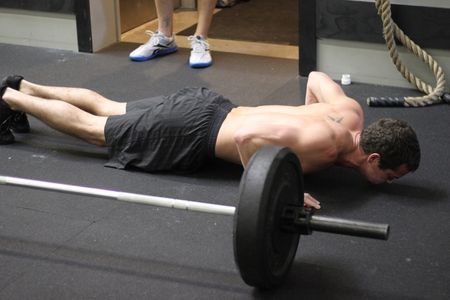 Pat Barber aka "Mountain Man" gives advice on 2012 CF Open WOD 12.3