Main Class:
As a team of 2 complete the following work for time:
Run 2400m 
180 Kettlebell Swings (53#/35#) 
120 Pull-ups 
* Break up the work as a team in any rep scheme (i.e. one round, 2, or even 6 rounds. Or do all the running then break up the exercises). 
** One partner works at a time, split all reps up w/partner and alternate KB and Pull-ups however you want except both partners MUST run together. 
Advanced RX Class:
For time: 
10 Overhead Squat (155#/105#)
10 Box Jump Overs (24″/20″)
10 Thruster (135#/95#)
10 Power Clean (205#/125#)
10 Toes to Bar 
10 Burpee Muscle-ups 
10 Toes to Bar 
10 Power Clean
10 Thruster
10 Box Jump Overs 
10 Overhead squat
Post total time.
Results
How to spice up a box jump or a burpee? Jump over something!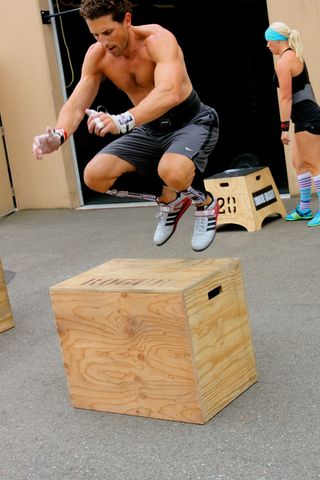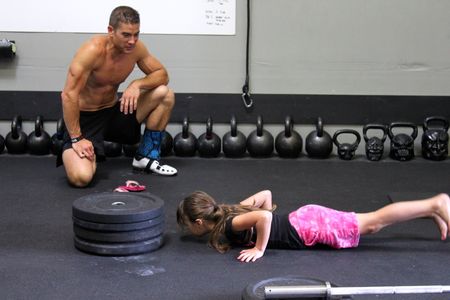 Men's Chipper Event at the 2012 Reebok CrossFit Games – video [wmv] [mov] [HD mov]
Notes:
If you earned your 100 WOD T-Shirt or are close and want one then we need your size to get a batch ordered.
Next weekend is 31Heroes. Get your partner, sign up on the whiteboard for your slot. More details are here. Read the info at the link, register, and remember to bring in some ground coffee to donate for Frank's unit that is serving our country in Afghanistan. Let's show our support for the heroes currently serving as well as honoring the 31 who have fallen.
Last night was the SRCF Margarita Fest at Ana's Mexican Family Restaurant. Good times were had with a big group, good food and of course margaritas! We will have to do this again. As Jim Mc said "thanks Anna for having a restaurant so we can all drink together"!