Main Class:
In Teams of 2 complete "Team Kalsu":
On the minute:
One partner will complete 5 burpees and perform max rep thrusters on the minute. (135#/95#). After one minute rotate with your partner who will complete 5 burpees then max rep thrusters as able during that minute. At the beginning of the next minute switch with your partner and continue to perform 5 burpees and then max rep thrusters and so on until you reach 100 total thrusters.
Post the total number of minutes it took to reach 100 thrusters.
Advanced RX Class:
Strength WOD:
1/1/1/1/1
Squat Clean Thruster
Conditioning:
5 Rounds for time of: 
5 Squat Clean Thrusters (135#/95#)
10 Lateral Burpees (Over Barbell)
Results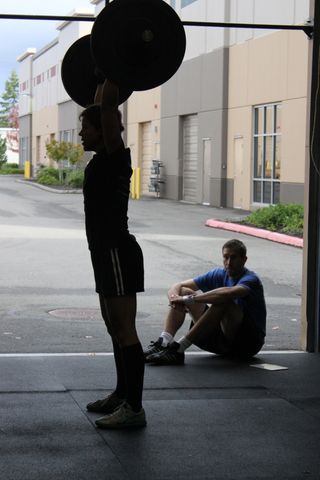 Quote of the day: "The only thing that makes thrusters worse is the squat clean…and the only thing that makes the burpee worse is the lateral burpee."
This weekend was the CrossFit Olympic Lifting Trainer Course hosted at Rainier CrossFit. Mark, Rob, Sean, Jenna and myself all attended and spent two days learning from the best (Coach Mike Burgener) how to coach others in the Olympic lifts (Snatch, Clean and Jerk). By focusing on the fundamentals, progressions, and basics we all learned or reinforced how to teach and also subsequently improved our own technique on these lifts. What's next? More work as a gym on the clean, snatch and jerk. 
"Coaching the Three Snatch Positions" with Coach Mike Burgener, CrossFit Journal preview video [wmv] [mov] [HD mov]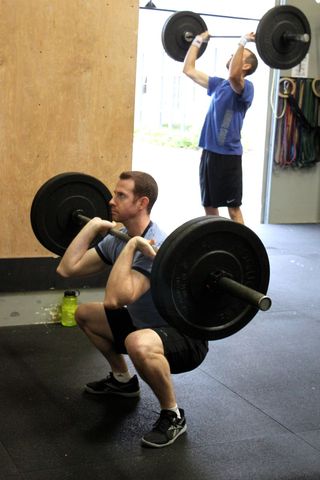 Notes:
10/26: "Frankenchipper" WOD! Sat. at 0930. Costume required for the WOD. Otherwise there will be adjustments made to your workout to "compensate". Don't be "that guy or gal"!
11/30: Advanced RX Test at 6pm (3 spots, you must sign-up in the gym – you must be ready and are expected to know the requirements of the test)