Saturday WOD:
Team "Murph"
Kim and Michelle tackle "Murph" individually: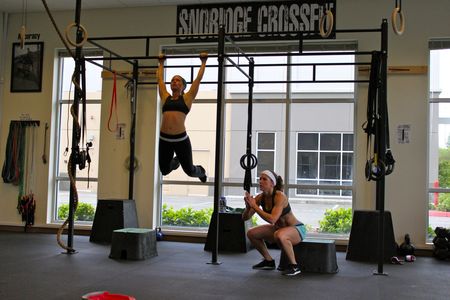 In teams of two complete the following for time:
1 Mile Run
100 Pull-ups
200 Push-Ups
300 Squats 
1 Mile Run
Rules:
Both team members must run a mile together each time
Teams may break up exercises between run segments however they wish but work one at a time
Teams cannot move from run to pull-ups until both have completed the mile
Call time when each team member completes their final mile
Post WOD complete max tire flips (850#/507#) as a team in 4 minutes
Results
Friday WOD:
4 Rounds for time:
40 Push Press (65#/45#)
30 Squats
20 Ring Dips 
10 Double-Unders 
Results
The blog is back! After an epic Thursday night (with our super successful CrossFit demo at the Fit 5 Fashion Show in Bellevue) we took Friday night to go out and enjoy some margaritas and food as a crew. The tequila I had sent me into that nice comfortable place that is not conducive to publishing coherent thought for the blog thus the missing post from yesterday. We are hoping to get some video of the event to share from the demo but I can honestly say we think it went very well judging by the feedback, screaming audience (over 700 people!) and comments from the other performers and lululemon crew.  It was an amazing opportunity for all of us and a genuinely fun event. Special thanks to Jorge, Jana, Rona, Rob, Jenna, and Sean who cheered and represented SnoRidge for us in the crowd! It meant a lot!
Friday was a classic WOD that we pulled from the hopper that Michelle and I have both done several times. It is one that looks easy due to a light bar and somewhat manageable movements but 2 rounds in and you quickly realize how hard it is. Saturday was a great team WOD that breaks the Hero WOD Murph (done individually as RX'd) into a more manageable yet still challenging workout. Teaming up meant learning how to work together with your partner with fast transitions and splitting up the work to maintain fast pacing. Having both run meant everyone got to feel how different running a longer distance before and after a lot of reps really is. 
Post WOD some of you took the challenge for max tire flips and loved it: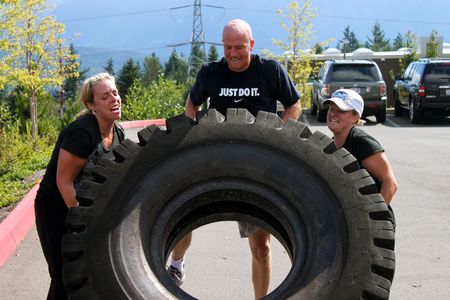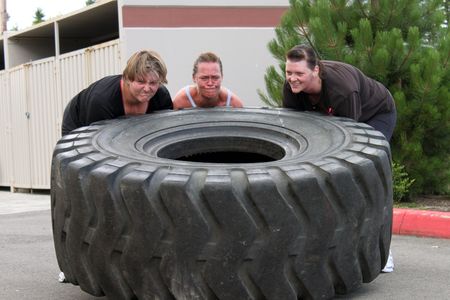 Notes:
"How Would You Stack Up?" in the 2010 USAW / CrossFit Weightlifting Open (Our very own Sean will be competing in this event in October)