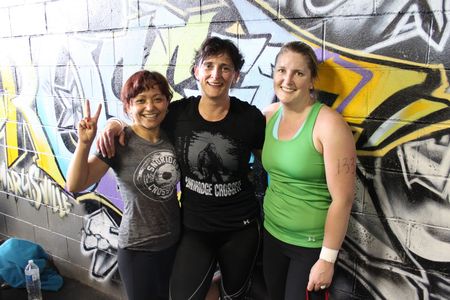 Whoo Hoo, congrats, wool hoots and contests to Sangeeta, Lucy and Lindsay (pictured L to R) for competing in the CF Marysville Throwdown yesterday! They all pulled up their knee high socks and dove into some CrossFit competition. We were able to get up there in time to see them all attack the last of 3 WOD's together. Attack they did. Each of them in their own way. They competed in a field of over 30 women and completed 3 WOD's in one long day that had everything from a ladder of deadlifts, pull-ups, and kettlebell swings to a "Grace"/Handstand Push-up combo and finally a brutal chipper of 5 different exercises that went from 10 reps up to 50 (increasing by 10) and back down again. 
Lindsay: Sumo Deadlift High Pull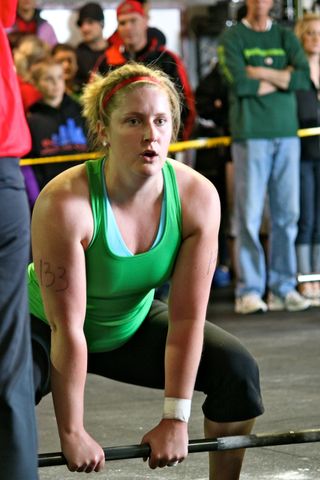 For me it was motivating, inspiring, and gratifying to watch. Everyday as a coach we watch each of you. We see you sweat, work, collapse, and push to improve your health. We teach, drill, and remind all of you the big and little things that are required to move efficiently and safely. Throughout every WOD a little of each of us is revealed to one another. How we deal with triumph and failure. What we do when we are faced with a seemingly impossible task or how we react when our bodies or minds begin to let us down. To see three of our awesome ladies out there in front of a packed gym pushing themselves to snatch a heavy bar, put their toes through rings, do burpees, or jump on a big ass tire while everyone is watching and judging takes guts. When your abs and grip begin failing and you are missing reps you have a choice. Quit or shake it out and will yourself to get through them. Our ladies chose the latter.
Lucy: Over the Bar Burpee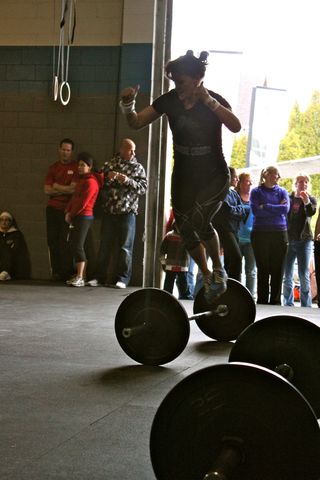 Demonstrating good form and strong work ethic I couldn't help but look at the three of them push themselves and think "F*ck yes. These women got strong in OUR gym. And they were willing to come out here today and give this a shot." It made me proud. It really is something that can get lost in the heat of a competition and was a good reminder for me personally that it really doesn't matter what your time is or what your final standing is. What matters is you do it RIGHT. That you do it legit and you give it your BEST. Our ladies did this and that alone makes them winners in my book.
Sangeeta: Toes through Rings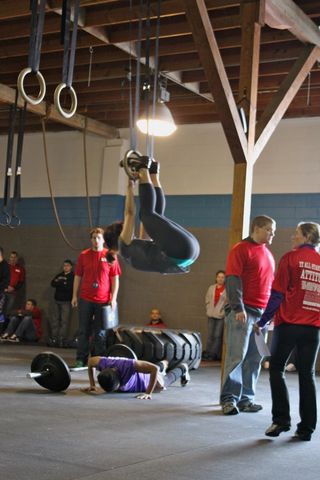 So high fives and chest bumps to Lindsay, Lucy and Sangeeta! They pushed themselves to do some new things, set some cool PR's and grew stronger yesterday. Keep being awesome and training hard for that next taste of competition.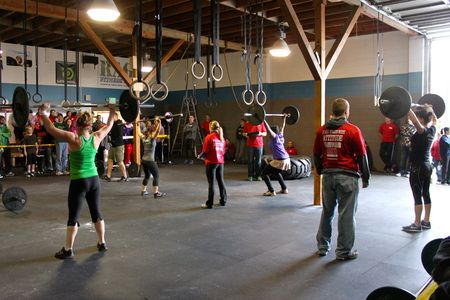 SRCF all Kool and the Gang after the Throwdown: