Main Class:
Teams of 2 complete for time:
100 Wall Balls (20#/14#)
100 Sumo Deadlift High Pull (75#/55#)
100 Box Jumps (20″)
100 Push Press (75#/55#)
100 Calorie Row
* Alternate work as needed, one works at a time. Complete total reps in order as a team.
Advanced RX Class:
Strength WOD:
Every Minute On the Minute for 7 Minutes:
1 Clean (Squat) + 1 Hang Clean (Squat) + 1 Push Jerk @ 70-80% 1RM
Conditioning WOD:
For Time:
10 Muscle-Ups
100 Push Press (75#/55#)
1000m Row
Results 
View this photo
View this photo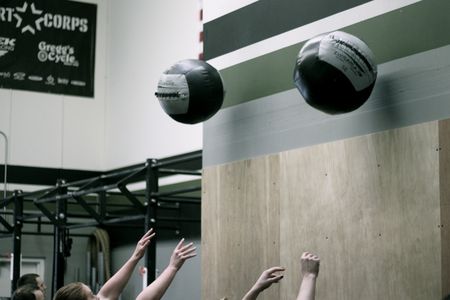 2 time CF Games winner (Soon to be 3?) Rich Froning PR's his C&J and Snatch:
Rich Froning 370 and EZ 335 C&J PR
"I missed 290 but I knew it was just because of technique, and not strength, and I knew I could get 300."
–Rich Froning, after snatching 300 pounds – [video]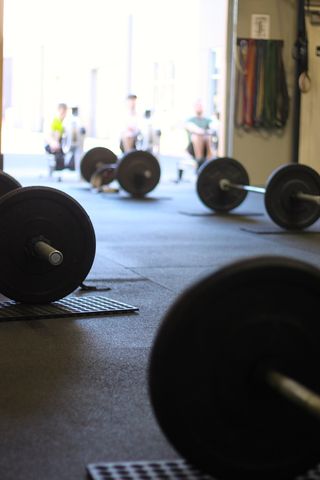 Eric S. won our Stop the Slop Nutrition challenge with a weight loss of 19 lbs. in 30 days (8.45% change in bodyweight) by following a strict Whole30. 
Here's his story:
"SRCF – Stop the Slop" by Eric S.
It's funny the other day when I thought about writing this essay about what I learned over the past 30 days, I thought of some lyrics. "I learned a lot about livin and a little about love."  On January 7th I saw a post in the SRCF Facebook page about bringing your money for the challenge, I had no idea what I was getting into but I love a challenge so I went to the bank and came prepared for the WOD. I weighed in (which I hate to do) and saw a result of 230.8, which was disappointing seeing as 6 months ago I was down to 220ish when I did the Advocare 24day Challenge. With the weigh in past me I hit the WOD pushing myself as hard as I could. It seemed to me as it was a race between Derek G and myself I could hear Jim M in the background yelling go D-Eric (sounding like a combination of both our names) we hit the run and I finished with 14:27 on the clock. Now the hard part began. 
When I got home that night I had no idea what the whole30 challenge was, what Paleo was, or anything. I scoured the web for hours that night devising a plan of how I was going to kill this challenge. The next day I struggled to find things to eat while working in the field, but that night I hit up PCC and Metropolitan Market and stocked my fridge full of goodies, purging the negative stuff to the garbage. For the next 4 weeks PCC and MM received a ton of my money, Pinterest absorbed a lot of my time as I found great recipes to use for breakfast, lunch, and dinner. I learned that I could still eat amazing meals while having them be well balanced and great for your body. Everywhere I went I became a label detective, I figured if I found something that I either A. Couldn't pronounce, or B. Had to look up to see what it was it didn't need to be part of my life. 
In junction with this great new diet I started taking some supplements, Pure Pharma O3, M3, and D3, along with a Multi-Vitamin. Throughout the whole process I could feel my body change, my energy and wellbeing was way up, and I began to love the person that I was even more. Throughout the WODs I felt stronger, I felt like those last reps I would struggle on came easier. I think part of the challenge was to not weigh in, but I couldn't help it, my mom when she was here months ago had purchased a scale, for the longest time I had never had one, but it was there. When I could feel my clothes drastically getting roomier, I had to see what I had accomplished so far. The more and more I checked the more challenged I felt to get a few more off each time. 
Some other things I learned about cooking itself is the different types of Oil's to use. I had no idea how bad PAM spray was, so I tossed it all out and switched to pure coconut oil. Using real seasonings to make up what I use to buy pre-made. As far as foods go organic vs. non-organic. I had no idea about cured vs. un-cured bacon. I learned to love Coconut milk over regular milk and minus the protein coconut milk has just as much nutrients if not more than regular. Lastly, portion control while cooking. If I only make enough for the one meal or if I'm making a large batch of something I would pre-package and put it in the fridge to save myself from over eating. With that being said I have felt the change in my body to where I feel full with that portion now. 
Ending this challenge it felt like such a great success. I have intrigued my family and friends to try living a Paleo lifestyle, with the results that I accomplished in the 30days it inspired them to do the same. Over the last week and a half of the challenge my mom was here from California and she truly supported me by really getting to know what the whole30 challenge was, and she stocked my fridge full of food she made that was compliant. I remember the morning of the 5th I woke up logged in to BTWB to log my daily results and saw "Stop the Slop" for the Daily WOD, I had prepared myself thinking it was on Thursday the 7th, I was slightly disappointed thinking that I wasn't going to PR because I had missed a week of WODs due to working late every night, but I wasn't going to let that slow me down. Walked in hit the weigh in and couldn't believe what I saw on the scale 211.3!!! I was like are you kidding me, that gave me the extra drive I needed to rock this WOD. Hitting a 1:09PR after completing with 13:18 on the clock I felt so accomplished. 
Hitting the bell on the way out to ring in the PR out loud was the end of the 30 day challenge, but it was defiantly not the end to my new lifestyle. I will continue the way I have been eating because I have already become accustom to it and I love the results that it produced. But when I go out that doesn't mean that I can't have a treat meal every now and then. I just want to thank SRCF for holding this challenge and encouraging me in this new lifestyle. The slop has stopped!
Michelle and Rona celebrate their 100th warm-up together: