In teams of two, complete for time:
100 Thrusters (135#/95#)
* Alternate between athletes every minute (only one works at a time) 
* Starting at the beginning of each minute you must complete 5 burpees; with remaining time in each minute complete max reps of thrusters. Stop every minute to complete the burpees before continuing with thrusters
Results
View this photo
View this photo
Lindsay thrusters while her teammates Amanda and Ziggy look on: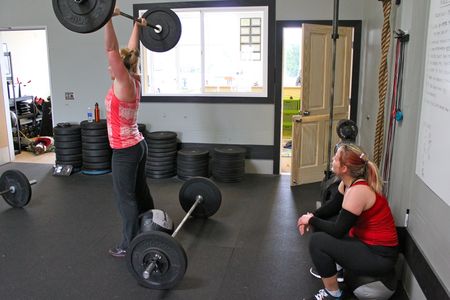 We are happy to announce EFT is finally set up!  This is our preferred method of payment.  Which means if you can get set up for us Michelle won't have to send you a reminder email and you won't have to remember to bring in a check! 
Please complete the following steps if you haven't done so already:
Click on the MindBody Badge link on the left site of the site (Under SIgn up and Pay Online)
On the MindBody welcome page, follow the steps to set up a profile
After you create a profile, select the "Online Store" tab
Select "Contracts/Packages" under the tabs on the right
Choose the correct package, then select the start date (beginning or mid-month) and click "I agree with the above terms"
Check out and enter your payment by credit card 
Sit back and think "Winning. Everyday."
If you want to enter checking account info for ACH monthly withdrawals or if you have any other questions or problems setting up this part, please set up your profile with personal info and let us know which option you want and we can help you set up the rest.  
There are lots of cool things we can do with this program so we need all our members in there as we will get better at using the many features of the software for things like events, T Shirts, CF Kids, appointment scheduling, etc.
Notes:
From the land of the truly bizarre; human breast milk ice cream. Technically it's free range right?
Ice-cream maker to make human breast milk treat – The Globe and Mail
Happy Birthday today to Rob! Here's a shot from today's training for the Games Open. (Don't worry he will get a birthday WOD soon):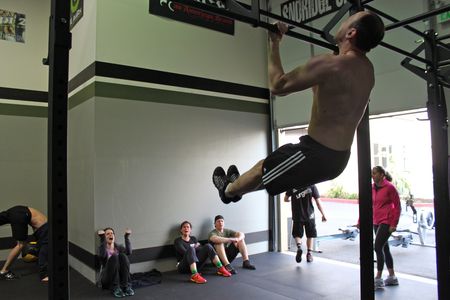 Some of the team tackling "Twins":