Team WOD:
AMRAP 20 mins: Row (calories), Wall Balls and Kettlebell Swings
Work in teams of two.
Complete as many rounds as possible in 20 mins of:
10 Row (calories)
15 Wall Balls (20#/14#)
15 Kettlebell Swings(53#/35#)
* Team of 3 Option: Add 10 Box Jumps (24″/20″) after the KB Swings and alternate in the same pattern with three partners.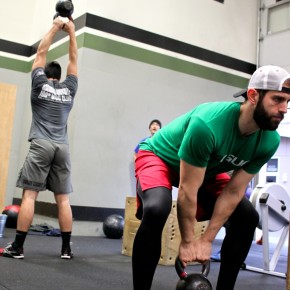 Alternate exercises: Team member 1 starts with the row. When he/she reaches 10 calories, team member 2 starts the wallballs. When he/she finishes 15 WBs, team member 1 starts the KB swings. When he/she finishes team member 2 starts rowing, and so on and so forth…. Post total rounds completed and team member in notes.