Back Squat 1RM 
Press 1RM
Deadlift 1RM
Or:
5k Row for time
* This will be repeated tomorrow where you must complete the WOD you did not do today
Results
Quote of the Day: Jim M. ~ "I've been waiting a long time for this WOD (CF Total). Too bad I'm not in better shape."
Moe coaching and encouraging Jana and Eric through some PR's: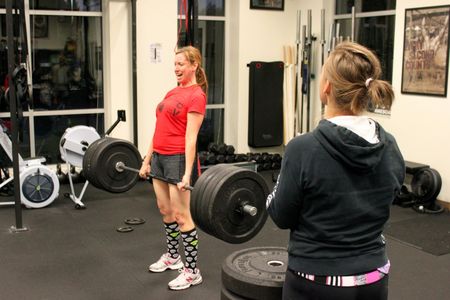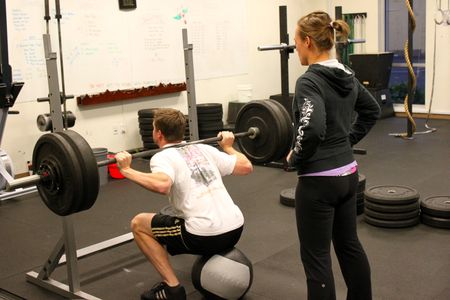 Today we finally tackled the CrossFit Total and the 5k row. This test of strength and endurance will be split across Monday and Tuesday of this week to allow us to get everyone through. On Wednesday we will test basic CrossFit skills and metabolic conditioning with a time honored benchmark that the majority of you are familiar with (it ain't Fran!). There will also be a make-up day for anyone who misses one of the test WOD's on Thursday. These three CrossFit WOD's will allow each of you to gauge areas of weakness, strength and skills to learn, improve or maintain. In a few months we will repeat it for you to gauge improvement.
Having enough equipment, the right amount of time, space and logistics for a CF Total have been a thorn in our side for some time. Same with the 5k row. You need rowers! Not only that, we wanted to ensure there was adequate experience with the three Total lifts, max lifts, and strength WOD's in general. This test of general strength is time consuming. It takes space, racks, and coaching. Pairing it with a 5k row and splitting the class allows us to get this done over two days for a large group. 
Tips for the Total:
When you come in tomorrow for your total or your row, warm-up with a vengeance and move efficiently. Especially for the Total. You will get one hour to complete it. Warm-ups included. If the hour ends, your total ends. So use the time to get your lifts in. Everyone was able to get it done today without losing reps to time.
Read up on how the Total is conducted and make your strategy. Knowing the rules, what weight to open with and when to try a PR is important. If it's your first, just find your relative max for each lift (start with a lift close to your 3RM). If you know them already, then plan your warm-ups accordingly. Either way, remember that good technique and proper form is paramount. No slop, no unsafe movement allowed. We will gladly be watching and coaching!
Three rules:
Don't be stupid.
Don't be greedy.
Don't be pig-headed.
Congrats to all who PR'd today on either the Total, a 1RM lift, or a 5k Row!
Video of "Barbells for Boobs":
SnoRidge does "Amazing Grace" at King CrossFit (with Mark B, Jenna, Sean, Jeremy, Michelle and me):