For time:
* EMOM complete 4 burpees; with remaining time in each minute complete:
20 Thrusters (95#/65# Barbell for all movements)
20 Sumo Deadlift High Pull
20 Push Jerks
20 Overhead Squat
20 Front Squat
* To start complete 4 burpees before moving onto the barbell exercises. Stop every minute to complete 4 burpees and only move on to the next barbell movement after completing 20 reps. Athlete may rest only after completing 4 burpees for the minute.
Results
For a WOD description and comparison to the last time we did this see previous results. The crux of this WOD is you start in a hole and have to dig yourself out as the sand keeps pouring in around you.
Nadia endured the AF WOD Solo! Not only that she rocked it: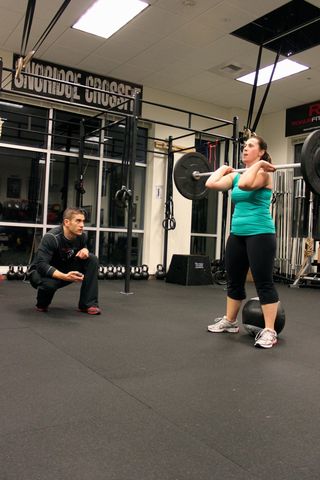 Take a couple minutes and read "Health, Happiness, and Food For Thought" on SicFit by Ricky Frausto, CrossFit Omaha. Especially if you are in the middle of the nutrition challenge.