For time:
21 Deadlifts (225#/155#)
Run 400m
18 Deadlifts
Run 400m
15  Deadlifts
Run 400m
12 Deadlifts
Run 400m
Immediately after completing the WOD:
Rest 2 minutes
Complete Max Effort Pull-ups (one attempt on bar)
Results
View this photo
View this photo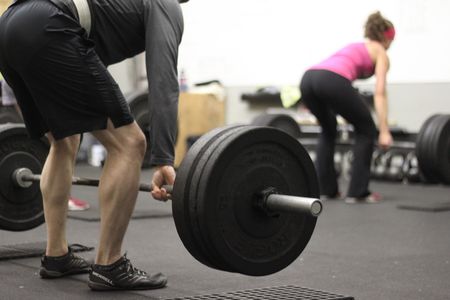 "Teaching The Deadlift" with Erik Preston by Again Faster Equipment – video [wmv] [mov]
Dustin sent this pretty cool video about a 14 year old pro motocross rider who uses CrossFit to improve his riding. (No surprise it makes him a better rider, we have proof right here with our Dirt Corps brethren)
"A Professional Motocross Rider At 14": CrossFit Community
Events:
Sunday 12/16: We have two teams of four men and women each competing at the Gorilla Games at the Meydenbauer Center in Bellevue. Cost is $10 for spectators and kids are free. The Games will run from 7am-4pm (at least). Come help cheer on your fellow SRCF peeps!
Things to look forward to at the Gorilla Games: Mark is bringing lunch for everyone, Lisa is making margaritas, Andrea will do family photos, and Jenna is wearing short shorts. Okay kidding. Jenna is wearing long shorts.