"Jackie":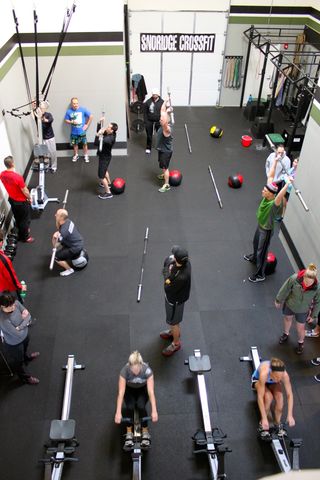 For Time:
1000m Row 
50 Thrusters (45#/33#)
30 Pull-ups
Results
Compare to Previous Results
Quote of the Day: "The successful person makes a habit of doing what the failing person doesn't like to do." ~ Thomas Edison
Today officially ended the 6 week "Stop the Slop" Nutrition and Performance Challenge. While there are still a couple of people who need to make up "Jackie" on Monday, the majority of you who saw it through finished it today with many PR's achieved. Today Pat also competed in a local CF Throwdown and placed in the Top 10 of the Men's "Elite" Division out of 44 athletes. (More on that tomorrow after official results are published). What a great day!
For those who didn't weigh in today please remember to weigh-in on Monday  or Tuesday at the latest so we can finalize the winners of the nutrition challenge. So far we have over 75 lbs. lost collectively (with several still to weigh-in)! We also have a few who have reported they no longer have high blood pressure or high cholesterol, or now have normal blood glucose levels. Chest bumps to all of you for putting in the effort to see it through. After the weigh-in's and WOD make-ups are done we will crown the winners and get them their prizes.
Most importantly take some time to reflect on your performance over the past six weeks:
Did you improve in performance or achieve PR's? 
Did you realize you can go faster and harder in a WOD before hitting that "suck" point? 
Did you lose weight OR change body composition (i.e. gain lean muscle mass and lose body-fat)?
Make lasting changes in your nutrition for you or your family that are truly healthy? 
Learn more about what real food vs. crap food do to your health, body and skin? 
Did you focus on using better movement and form in your WOD's that could not be called "slop"? 
It is your coaches hopes that you will all continue to make this a lifestyle and not a "diet". While we all deserve a cheat meal or treat, don't abandon everything and treat this as just another diet. Fad diets are honestly part of the problem (in my opinion). LIfestyle changes are habits that become lifelong and sustainable. Whether it's Adkins, South Beach, or some sort of "points" and "playing cards" type of diet you cannot temporarily practice eating a certain way and hope to be successful if you only plan to end it as soon as possible. Adopting sound principles for what you put into your body that have a proven track record at making someone leaner, stronger, less sick, and healthier is hard to argue. That is what eating "Paleo" has proven to Michelle and I (and Moe, Mark and Jeremy) over and over again firsthand. The evidence is there to be seen and found if you look for it and give it a chance. No shortcuts, cheats or binges while your body adjusts. Make sound choices based on quality and be consistent. Once you do you will likely "get it". Some of what you used to view as food will be exposed for the toxic, artificial, chemical stuff that is everywhere and killing us slowly. You will feel better, look better and all around perform better. Not just in a workout, but in life. Which is what it's all about anyway, right?