Day 4 of our "Week of the Games Inspired WOD's". This was WOD #7 and featured parallette handstand push-ups, heavy kettlebell swings and GHD Sit-ups. We modified it and extended the time and it worked well. Only two more days!
AMRAP (As Many Rounds As Possible) in 15 Minutes of:
4 Push-ups
8 Kettlebell Swings (54#/35#)
12 AbMat Sit-ups
Results
Amanda knocks out her first push-ups as RX'd: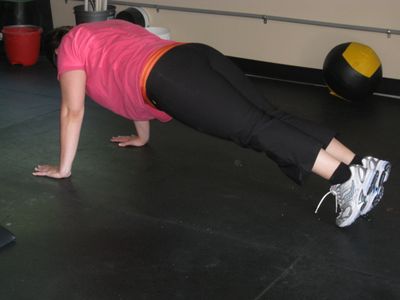 This WOD allowed for jumping to the next level either in push-ups, a heavier kettlebell, or both. With a short rep count it allowed for several people to make that next progression. 
A few notable highlights from today:
Congrats to Amanda for her first RX'd WOD and moving to full push-ups, Leigh and Lorri completed their first class WOD, and Jorge for moving to a heavier KB. Everyone seemed to like this one as it allowed for speed, progress and pushing to an all out race to keep piling on the rounds. It also was bearable considering the heat.
One other note. On the right hand side of the page is a link to the Snoqualmie Railroad Days Run. Click and register if you haven't yet.
Sherry demo'ing broad jumps as part of movement prep: