As Many Rounds As Possible in 10 Minutes:
6 Squat Clean (55kg/30kg)
12 Pull-ups
24 Double-Unders
Results
 Dodging Doubles: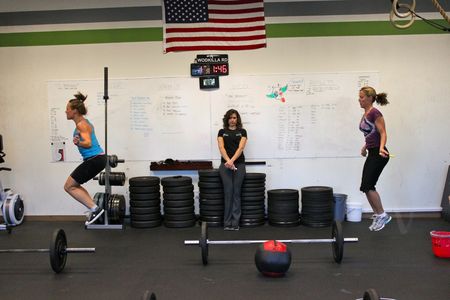 Justin and Sean bow down to Whitney:
Today was "The Triplet" from the CrossFit/USAW Open this past weekend. How surprised were all of you by the number of rounds you got for this WOD? Brutal combo, that's for sure, and we are only at 1000′ of elevation!
Bring your running shoes and your best Carl Lewis impersonation tomorrow! It will be nice weather so the WOD will take advantage of it.
Notes:
Amazing Grace Fundraiser: 10/16 at King CrossFit (in Renton) from 8:30am to 12pm. There will be no Saturday AM WOD at SnoRidge that day as we are all invited to King CF for the "Barbells for Boobs" event to help fight breast cancer. Click the link on the right side of the page, register as an individual and select SnoRidge CF as your affiliate.
Fun For A Cure Fundraiser:
Lucy is organizing a great fundraiser for the Children's Tumor Foundation in Issaquah on Nov. 6th at 7pm. This is a personal cause for her and certainly a very worthy one to support. Here's some info from Lucy below:
"It'll be a fun night of music, chocolate and wine with live and silent auction and tickets are $40 each.
It's inspired by my friend's son, Hayden, he is also Finns best pal and he is currently battling with three brain tumors. (He was featured on komo4 this weekend)
Attached is an invite (all are welcome), there are going to be some amazing auction items ie Ferrari day out, trips to Maui and NY, Balloon rides, weekend getaways and lots more….. plus of course a month of free CF at Snoridge!"
Media:
"Isabel-Off" with Josh Everett and Dave Lipson at the CrossFit USAW Weightlifting Open video [wmv] [mov]
A recap of the USAW/CrossFit Open and the impacts for both sports: "New Friends" from the CrossFit Journal