For time: 
15 Deadlifts (225#/155#)
5 Rope Climbs (15'/12′)
12 Deadlifts
4 Rope Climbs 
9 Deadlifts 
3 Rope Climbs 
6 Deadlifts 
2 Rope Climbs 
3 Deadlifts
1 Rope Climb 
Results
View this photo
View this photo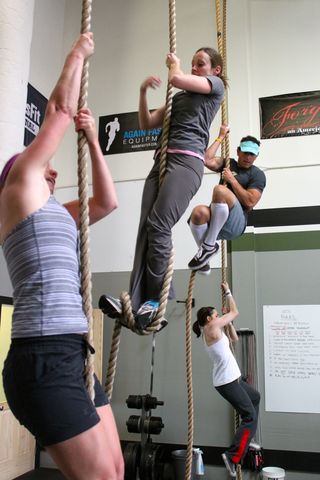 From the movie "The Princess Bride":
Inigo Montoya: But, I promise I will not kill you until you reach the top. 
Man in Black: That's VERY comforting, but I'm afraid you'll just have to wait. 
Inigo Montoya: I hate waiting. I could give you my word as a Spaniard. 
Man in Black: No good. I've known too many Spaniards. 
Inigo Montoya: Isn't there any way you trust me? 
Man in Black: Nothing comes to mind. 
Inigo Montoya: I swear on the soul of my father, Domingo Montoya, you will reach the top alive. 
Man in Black: Throw me the rope. 
Rope climbs. You never know when you might need one. Train now so if you ever are the man (or woman) in black you can tell Inigo Montoya to just throw you the rope.
Congrats to Jim C. (pictured below) and Laura M. for getting their first WOD's with rope climbs today! 15 of them!
Coaching Tips – Rope climbs and the foot lock:
First: work on your pull-ups. All different types. Get stronger in your arms, you will need them.
Try different foot locks. There are multiple styles. Ask your coaches to show you the different methods and see what works.
The foot lock is essential to the climb. It allows you to navigate both up and down the rope safely and efficiently, as well as provide a method to brake and hold yourself when you are fatigued at 10 to 20 feet off the floor.
The pull-up on the rope should be followed with a very quick foot lock that allows you to stand up with your feet and take the load off your arms. Think "pull and air squat" on the rope. 
When you descend make sure you use your feet to control your rate of descent. Don't fire pole it if you don't have an understanding of fast-roping. Come down by going hand over hand with your foot lock in reverse.
If you are able to quickly descend using the "J or Hook Wrap", you can control your speed by spreading your feet apart (pictured below)
Notes:
"Change Our Thoughts" with Greg Amundson – video [wmv] [mov]
Coolest kettlebells ever: Demonbells
Schedule update for this Friday!
Thanks Coach Rona for volunteering to run one WOD on Friday at 9:30am for anyone who can make it. It will be the ONLY WOD of the day as afterwards she will be closing the gym to get to Regionals. We will be closed the rest of Friday and all day Saturday. I will post a WOD for Saturday on beyondthewhiteboard.com for those who want to do it on their own.
Games T Shirts are in. Pick them up at the box if you pre-ordered and paid. If you want to get in on the re-order write your name and size down on the whiteboard in the box. We will be doing another order of the same color as well as some blue women's tanks too.