Quote of the day: "Details make the man, and woman. Tiger Blood is all about details." ~ Kelly Starrett
Nan and the Overhead Walking Lunge (she is filled with Tiger Blood):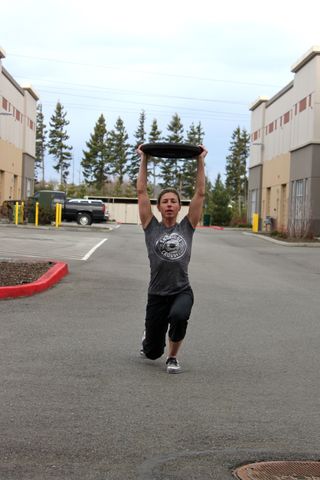 Rest Days aren't all about doing nothing. As KStar of Mobility WOD says "if you didn't train today, what steps did you take to set the stage for tomorrow's training?" Rest days should include maintenance. Stretching, mobility, light movement, eating well, balanced sleep.
Many of you have difficulty getting into an open overhead position due to lack of flexibility. There are many techniques to working this. Here's one video with a few methods with KStar and Chris Spealler. Take the time to watch and try these in the box.
Attention CF Games Open Competitors aka Team Squatch!
Read this and the link below CAREFULLY. Some of you have asked about how the team and individual scoring counts toward's the team score. This spells it out. Our plan will be to try to see if we can get an official team to make it through the open as RX'd (3 men/3 women). Once you do not RX an Open workout you are no longer "in the running" (both as an individual and in the team competition). Let's do this!
2011 CrossFit Games: More on Teams during the CrossFit Games Open: Everything you need to know about teams on the new site and in the Open