21-15-9 Reps of each for time:
Box Jumps (24″/20″)
Power Snatch (75#/55#)
Chest-to-Bar Pull-ups
Results
View this photo
View this photo
Powerful Women: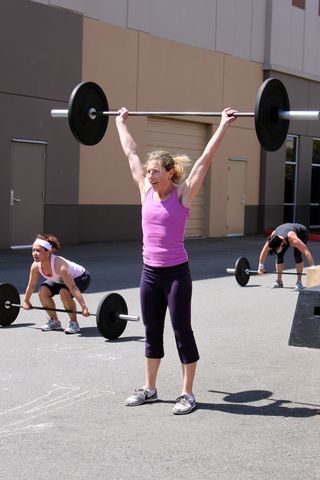 Keep those WOD inputs from yesterday's post coming. So far we've seen a few requests both here and on our Facebook Group. All great ideas (except for Mark's inverted burpees which have been banned for now due to him being way too good at them) and they will get worked in over the next couple months. 
Class Saturday is at 0930 (no change even though the Open is over). CF Kids too.
Within the next couple weekends we will be running the Advanced RX Challenge for those interested (after the Saturday 0930 WOD). The Advanced Skills Test will be the pre-requisite test for being able to attend a separate RX Only Saturday class that will start in June on Saturdays at 1045. I will run this class after the normal Saturday WOD. It will be one hour and consist of advanced WOD's. The workouts will require extra mojo and go-juice. You will receive coaching but expect that you will hit WOD's ranging from Main Site workouts to CF Football to Games level WOD's to just plain harder stuff. Scaling will be minimal.
The reasoning behind this class? With the Open behind us there are many who have advanced in their relative skill and fitness level that certain skills become the next "bar" for them to reach. Training for next year's Open and/or other CrossFit competitions requires advanced skills. Whether it's heavy loads, oly lifts, ring work or more we want to ensure we are providing an opportunity for truly building elite fitness in those who are chasing it. It's not everyone's cup of tea and we get that. Like all athletic endeavors there is a wide spectrum of skill and desire. This class will be open to any members (and coaches) who can pass the test. This class will be kick ass!
By having this class we will be able to offer coaching on advanced skills and keep the classes on a level that has scaling appropriate to the workout and group. When you were in high school you likely had AP (Advanced Placement) English or Math. Same concept. If you decide to take the test and don't pass it then it gives you goals to work towards. It doesn't mean you won't ever pass it. It means you have things to work on. That is what the WOD's are designed for every day in the box. Think: Bigger. Faster. Stronger. The old fashioned way, through hard work. Don't worry, periodically we will have an opportunity to re-test or test in if you are new.
Now for the most important question. How many skills are needed to be passed to get into the Advanced Class? Stay tuned.
'N Sync:
"The Man Test: Aspen Wall Ball Game" – video [wmv] [mov]
We need to have our own man/woman tests. Got ideas? Bring it!