Complete 2 rounds of each couplet for time (for a total of 4 rounds):
2 Rounds of:
750m Row
20 Ring Dips
2 Rounds of:
40 Twisted Wall Balls (20#/14#)
40 AbMat Sit-ups
Results
View this photo
View this photo
New movements to work on means new ways to improve your fitness capability make wall balls worse. Twisted wall balls are a different challenge with coordination, balance, accuracy, and agility. We have not programmed this movement in years but I came across this WOD that I programmed with them after doing Twisted Wall Balls for the first time at Rainier CrossFit back in 2008. A good opportunity to teach something new and mix things up.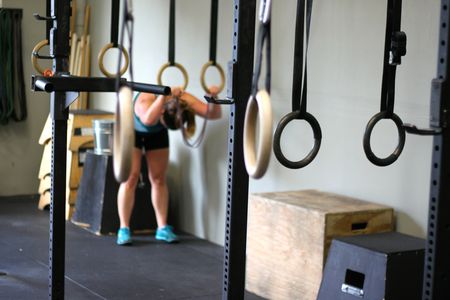 Read this story below. A great life lesson in fear and tackling it head on and how in that process it makes you and those around you better. This is a powerful example of what "community" means in CrossFit and how it keeps so many coming back to their affiliate over and over to make themselves better than yesterday.
"I Took Last Place in the CrossFit Games Open by Industrious Athlete Greg L." CrossFit Industrious