5 Rounds for Time:
7 Muscle-Ups
21 Sumo Deadlift High Pull (20#/14#)
Results
View this photo
View this photo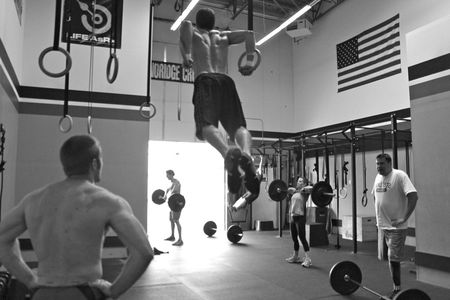 The Muscle-up. The annoited pinnacle skill in CrossFit that people strive and wish for. It is held up on a pedestal for achieving "Beast Mode" status. Deserved? Who knows. It's a skill that is advanced to all but the gymnast who scoffs at the notion of it being called an "advanced anything". To a gymnast who uses the rings the "muscle-up" is a starting position to real ring work. It's beyond basic. To the CrossFitter it's the key to a whole bunch of WOD's like "Nasty Girls", "Amanda", "Nate", and many more.
Well we aren't all gymnasts, so I am willing to bet that in most walks of athletic life outside of CrossFit you won't find that many people doing muscle-ups of any variation in any type of gym. By that perspective then I'm okay with it being a beast skill.
Here's the deal though. It's a different beast altogether. Getting a muscle-up means you must first have at minimum the ability to do a few if not several no sh*t chest-to-bar pull-ups, a few dead hang pull-ups and a few deep ring dips. Without those skills the raw strength is simply not there. Moving beyond that you must have an ability to kip, maintain a false grip, and have practiced the muscle-up progression from the floor. Once you get that first one what is one to do? Celebrate yes, but it doesn't end there. It's actually only the beginning to a whole new domain. Weaving them into a WOD is a whole other matter as you combine them with other movements and grip fatigue while dealing with the overall cardio-respiratory impact of the workout itself.
So for those who recently learned them, keep practicing them. For those who want one? Get to work on those strict pull-ups, chest-to-bar pull-ups and ring dips along with the muscle-up progressions. The goal is to get to the muscle-up as RX'd: Full turnout at the bottom with arms straight, then a strong full pull and dip to finishing with arms locked out in the "up" position. Step two is the ability to work them with other movements throughout a WOD. 
Don – Muscle-up Sequence:
Notes:
Mobility class Wednesday night with Rona. See yesterday's post.
Our "Road to the Fittest" Games Shirts came in and look awesome. For those who pre-ordered pick them up in the box. For those who missed the first order, let Michelle know to get on a re-order list. When we hit a total of 12 we will order again.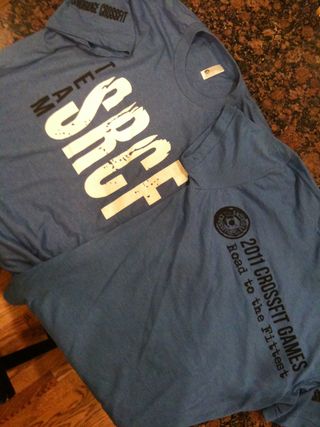 Be a fathead (the human brain is made up in large parts both fat and cholesterol). Read: 7 Reasons to Eat Saturated Fat – Nourishing Days
"Grocery Shopping" with Nick Massie, CrossFit Journal preview video [wmv] [mov]