Sunday Functional Fitness with a Christmas Tree: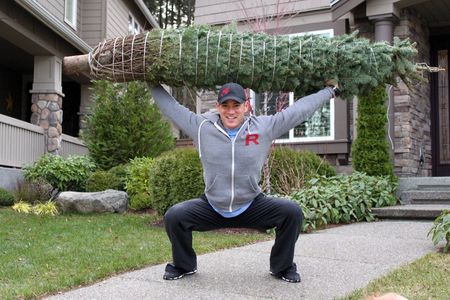 "I've always believed that if you put in the work, the results will come. I don't do things half-heartedly. Because I know if I do, then I can expect half-hearted results." ~ Michael Jordan
The theme of last year's CF Games was "Unknown and Unknowable". Well, I assumed we would have Sectional Qualifiers this year for the 2011 Games. You what happens when you assume…
So in the wake of the development around the elimination of Sectionals and the evolving format for this year's online/local "Sectional" qualifiers for the CrossFit Games I have been doing some thinking (and ranting but that is maybe not a good topic for this post). Amid my disappointment over the change in format and doing away with Sectionals as we know it, I have heard and read many different pros and cons and decided the most important thing to take away from this is that it will not change how I train. For the 14 other SRCF athletes who were planning on Sectionals I hope you won't either.
Competition is a great thing. It makes you have purpose in your training. It forces you to push harder, rest less, go heavier, practice more, and dial it in. It makes you feel alive and allows you to accomplish goals and learn about yourself in the process. For those who want to compete for the Games in whatever format they announce then keep focused and prepare to do the online or local host qualifiers when the dates and details come out. If not then there are several other avenues out there:
C.R.A.S.H. B Indoor Rowing Championships in Seattle this Feb. (although you must be nuts to want to row)
USAW/CrossFit Weightlifting competition: Not sure when it will be but likely there will be another one in 2011
Local Oly Lifting competitions: Thrush Sports Performance Center regularly hosts competitions
Mt. Rainier Strongest Man and Woman Event: Rainier CrossFit hosts this annual event and competition each summer
Local and Regional CrossFit Throwdowns and Challenges: There are plenty! Like the "Grace" Challenge or annual "Fight Gone Bad" Event, we can find them and point you to them. Or we can even organize one.
Bottom line is this: If you are an uber-competitive CrossFitter, there are outlets for us all. As your coaches and affiliate we will do our best to uncover them, help you train for them if you desire it, and then push you to go forth and dominate! 
Read "Should You Compete" by Kate Rawlings