For time:
20 Box Jumps (24″/20″)
30 Hand Release Push-ups 
40 Wall Balls (20#/14#)
50 Double-Unders
100 AbMat Sit-ups
50 Double-Unders
40 Wall Balls
30 Hand Release Push-ups 
20 Box Jumps 
Results
View this photo
View this photo
Don't double-under angry: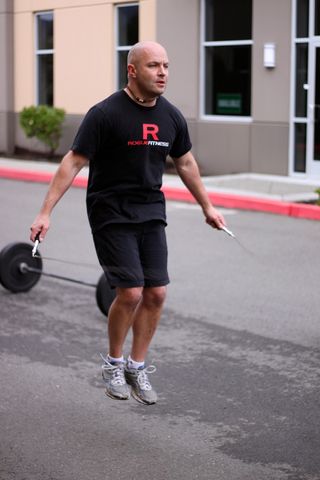 Back to a normal schedule tomorrow. The holidays are over and it's time to get to work, both in and out of the gym. When you come in focus on those 2012 goals!
OnRamp update: We are making changes to our program for newcomers to SRCF. Starting this month we are going to conduct a two week OnRamp of 6 classes (3 per week). No more Elements! The first OnRamp starts next Tuesday night 1/10 at 7pm. If you know of someone interested in starting CrossFit they can contact us to get info and sign up. Spots are limited to 5 people for each OnRamp. Details will be posted tomorrow.
2012 CF Games Open coming soon: Registration for the 2012 Reebok CrossFit Games Open launches on Feb 1 – video [wmv] [mov] [HD mov]
"Setting Specific Goals" with Greg Amundson by Again Faster Equipment– video [wmv] [mov]