Strength WOD:
1-1-1-1-1
Snatch (Squat) + Overhead Squat
Conditioning:
3 Rounds for time of:
400m Run
25 Hand Release Push-ups
15 Overhead Squats (115#/75#)
Optional Post-WOD Skill Work:
Strict Pull-ups
Results
View this photo
View this photo
View this photo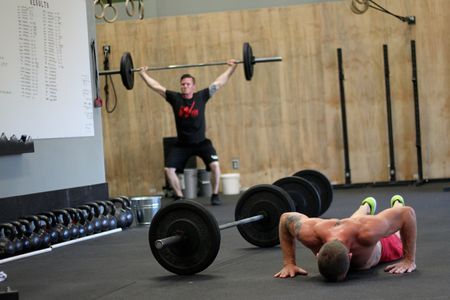 A lot of attention recently has been paid to the trendy bashing of CrossFit in the media (social and otherwise) and unsurprisingly it is filled with the same typical cristicisms that you hear about related to high intensity exercise and it's risks. While the smart athlete can and should be able to differentiate between a good vs. bad gym or risk vs. reward for a specific exercise program, it's nice to see someone in the medical community tackle this topic and argue the merits of the community and the impact of CrossFit methodology itself on our broader society.
"Studies, in fact show that our happiness, motivation and health are tied to the feeling that we belong to a greater community.
Studies also show that individuals are more likely to stick to a fitness plan when it is social or there exists social support." ~ from CrossFit Bashers. Can You Be More Constructive? by Eva M. Selhub, M.D. www.huffingtonpost.com