"UHaul" Wall Balls: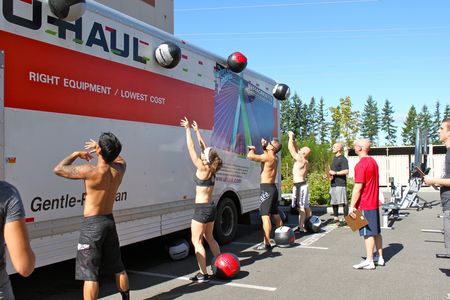 Fresh off of yesterday's event we are already planning more! Here's a peek at what's to come:
October:
2 October (Sat.) – Rowing on Lake Samm with the Sammamish Rowing Association 

Learn the ABC's of rowing: How to row on the indoor erg and in a boat on the water! Time is 12-3pm. <Cost TBD> 

16 October (Sat.) – Barbells for Boobs at King CrossFit from 8:30am to 11:30am 

Part of breast cancer awareness month, "Amazing Grace" is a fundraiser sponsored by the CrossFit Journal to benefit Mammograms in Action
We are teaming up with King CrossFit in Renton and we are going to their box for this workout for the Saturday WOD. Come represent SRCF!
WOD is "Grace": 30 Clean and Jerks for time (135#/95#) as RX'd

There will be NO Saturday class at SnoRidge that day as we will all go to King

30 October (Sat.) – "Frankenchipper" Halloween WOD at the box from 10am until 12pm

Same WOD as last year
Costume required (you will do the WOD in it too)! 
Notes:
I wanted to also share that Cristin finished her first ever triathlon today (which is why she missed Fight Gone Bad on Sat. – we coached her to take a rest day prior even though she wanted to come do it)! Congrats to Cristin for such an amazing accomplishment! 
Here's her words and a pic after the finish: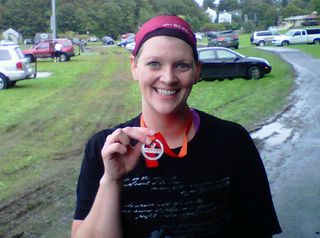 "I did it! I finished my first triathlon. I loved it and I only used profane language a couple of times 🙂 I thought that the swim would be the most difficult but it actually ended up being the bike, gotta hate those hills. I TOTALLY noticed a difference in my abilities and strength and I know that it is all because of CrossFit! You guys have helped me change so much…I never thought I would ever be able to finish something like this."