For Time:
1000m Row 
50 Wall Balls (20#/14#)
30 Pull-ups
* Compare to 12162011
Results
View this photo
View this photo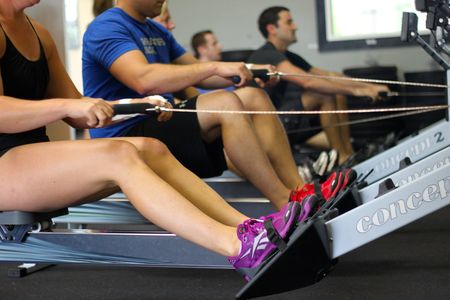 This variant on "Jackie" subs wall balls for thrusters. This version is slower since you are likely to drop the wall ball and be a bit more gassed after 50 of them.
Lisa (above) demos great wall ball and pull-up technique. When throwing the med ball overhead, it's far more efficient to fully extend the hip and "jump" the ball from the front rack into an overhead throw. On the finish position of the pull-up,the chin should leave no doubt that it clears the bar. When seen from behind, the neck should not have "rolls" in the skin. If you rubber neck your pull-ups, then focus on strength and mechanics and finish correctly.
Quote of the day: "Hiding from your weaknesses is a recipe for incapacity and error." ~ Coach Greg Glassman, CrossFit founder
Moe and the CF Teens in plank wars: