Saturday's WOD:
AMRAP (As Many Rounds As Possible) in 20 Minutes of:
400m Run
5 Power Snatch (135#/95#)
15 Pull-ups
* Adv RX Class do full Squat Snatch
Results 
RailRoad Days 5k and 10k Race Results
WODFest Results
On Saturday there were several notable firsts. Among all of our runners three people ran their first 10k (Meghann, Derek, and Sangeeta) while one ran their first 5k race (Shannon) at the Snoqualmie Rail Road Days Race. Jill finished the 5k race in 1st place in her age division! One of Team Squatch also competed in his 1st CF competition at WODFest in Seattle at Magnusson Park. Rob entered the masters category (ages 35 and up) and finished 2nd overall after 5 WOD's! His outstanding efforts included a 1st place finish in one workout, two 2nd places, a 4th and and a 5th place standing. Those scores added up to that awesome final standing of 2nd place and a great experience for him.
Congrats to all of you! We are stoked for everyone who competed and raced this weekend. It's exciting to watch so many chase their goals, learn or play new sports, and PR each and every week.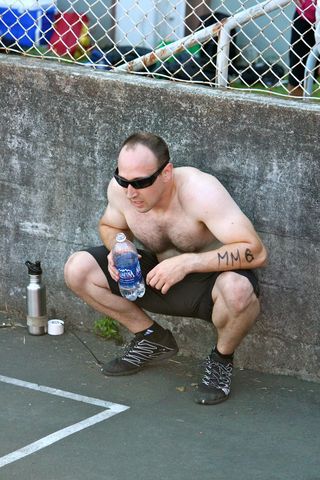 Notes:
This video (The Power To Change Lives) helps to explain why Michelle and I both consciously and passionately choose to do what we do everyday here at SnoRidge CrossFit. We take it seriously and live CrossFit. Our joy is in sharing it with and training everyone who chooses to walk through our doors.
"CrossFit Affiliates: The Power To Change Lives" – video [wmv] [mov] [HD mov]
Poetry In Motion: