Strength WOD:
3-2-1-1-1
Snatch
* 20 Minutes total
Conditioning WOD:
12-9-6-3 reps each of:
Power Snatch (95#/65#)
Burpees
Results 
View this photo
View this photo
2012 Games flashback: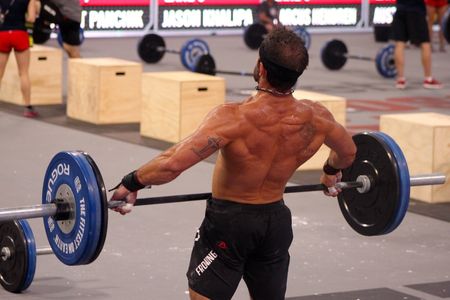 Quote of the day: "What we're trying to do is get things fixed, not allow them to stay broke." ~ Mark Rippetoe
If you are new you probably notice that we sometimes put goal times or additional instructions on the whiteboard for a workout.  This is in addition to the normal coaching we give everyone every day. Instructions include what movement to scale to if you are new, or what % or max load to lift. This forces correct scaling of weight or range of motion as well as ensures that the effect of the WOD is consistent across the board. Today the guidance on the checkout was to stay unbroken on the power snatches. It was designed to be a sprint and not a power snatch slog. Looking at the times it was just right.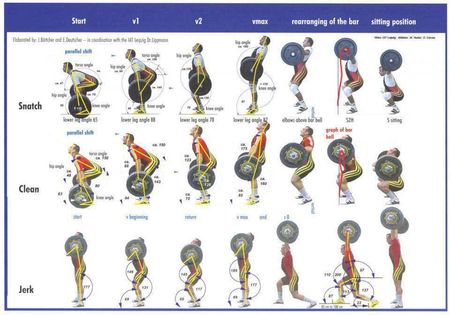 Schedule: 
STARTING TODAY on MONDAYS and WEDNESDAYS we have added….a 4:00 pm class!
We are testing out this time slot through March to see if people can make it.  
If you want to keep it, you better show up regularly.  
(CF Teens class is Tues/Thurs at 4:00 so we won't be adding it then.)
Nutrition:
Teri participated in the Stop the Slop Nutrition challenge and got results in her body composition, PR's in several WOD's, and has stuck with many of her nutritional changes since the challenge ended. She also came to grips around her relationship with the scale. Making it a lifestyle is the whole point of our challenge and seeing the paleo approach continue well into February for her is a huge accomplishment!
Here's her essay:
Weighing in on Weighing by Teri R.
            How much do you weigh? 
Are you 170 pounds of lean muscle or a saggy 135?  Do you weigh 150 in the dark on a full
moon?  What about 127 after having the
stomach flu?  Do you aspire to be a buck
o five?  This question used to consume
me.  While losing 60+ "baby" pounds back
in 2007-2008, I weighed constantly.    I loved saying I was down a pound.  I hated saying I was up a pound.  I have never enjoyed saying that horrible 3
digit number we call weight.  I don't
even love saying it when it is what the world considers a "small" number.  One year ago at SnoRidge CrossFit, Tom programmed a WOD that required me to acknowledge my weight and then dead lift
it.  I hyperventilated.  I hid in the corner.  I cried. 
Tom talked me off the ledge and I ended up doing the WOD.  Although I didn't like my weight written on
the white board for all to see, I was proud of myself because it wasn't about
everyone looking to see what I weighed.  I
am certain no one else cared.  It was about
me working hard and getting stronger.  A
couple of days later, Tom posted an article that inspired me to throw out my
bathroom scale.  Yep, I did that.  Today I have no idea what I weigh.  Even though my family has since bought a new
scale, I do not step on it, ever.  I have
Tom to thank for that.  I am perfectly okay
with not knowing my weight.  I even turn
around so I can't see the scale when I am being weighed in at the doctor's
office.  For the purposes of this
January's challenge, I chose NOT to weigh in.  Weighing in does not give real or valuable
information.  It leads to ridiculous,
obsessive behavior.  Weighing in isn't
the only measure of progress and ultimately my goal isn't to see a certain number
on the scale but to adopt a more healthy lifestyle.
                  First I would like to tell
you, weighing in makes me a crazy maniac. 
I begin immediately to base my self-worth on that number.  If I wake up and weigh two pounds more than
yesterday suddenly I consider myself "fat" or my personal favorite name to call
myself, "lard of the earth".  If I wake
up three pounds less than last week, I am Olivia Wild and dang…you can't touch
this.  These manic feelings begin to
drive me.  I begin to say things to
myself like–today stinks because I am lard of the earth, or wow, I can fulfill
any dream because today… I AM Olivia Wild. 
I begin to place too much importance on a number.  Reality says I am not lard of the earth or
Olivia Wild.  Really people, let's get
this straight, the number on the scale does not correlate to my physical
appearance.  I have seen women who weigh 155
pounds that look "125". Recently a woman I thought looked thin told me she
weighed in at 180.  The appearance of
these women didn't change once I knew their weight.   These women are strong and beautiful.  Not weighing in has prevented me from turning
into obsessed Teri.  It also protected me
from my ridiculous "scale" behavior and reminded me that I am not a number.
                  Critics might ask me how I can
document my progress with-out weighing in on the scale.  There are plenty of ways.  I believe the best way to track progress is
to see how I feel each day.  Is my energy
improved?  How am I sleeping?  Where is my self-esteem?  Is my strength and flexibility (don't laugh,
yes I am considering flexibility) improving? 
What about my complexion?  Am I
noticing improved cardio vascular health? 
It really didn't take long for me to see all these areas improve.  Waking up and feeling great, ready to go with
lots of energy…extra energy to do all the burpees Deb McCracken invited us to
do with her… that's progress.  Finally
after being in CrossFit a year and a half I was able to crab walk myself across
the floor, twice!  That is progress.  Walking into a work out and feeling strong
and fast (even if you come in last place) is progress.  Noticing less teenager-like acne is
progress.  Feeling great on your long run
is progress.  Another tangible way to
notice progress is through clothing fit. 
At the beginning of this 30 day challenge, I would put my jeans on and
oh boy, were they tight.  I would do
10-15 quick air squats and pray I wasn't going to split them.  Now, when I put my jeans on, no squats are
needed and they are even a bit loose by midday. 
Loose jeans and baggy t-shirts are progress.  I can also measure my progress with
pictures.  Before the challenge, I
honestly hated the sight of myself in pictures. 
Now, I can see the progress I have made and I feel proud.  Other people are noticing a change in me too.  Many are complimenting me and saying that
they can tell I have worked hard.  That
is progress.  My husband has remarked
about my skin being less dry and a bit softer. 
People are asking me my secret. 
That is progress.  There is no
need to weigh in order to track these successes. 
                  Ultimately, I do not need to weigh
because my final goal was not to see a number on a scale.  My goal in the challenge was to make lasting
changes and gain a healthier perspective. 
The goal included giving the Paleo lifestyle a real, fair chance.  I am thrilled to say I have created new
healthier habits.  I am meal planning and
have become better about food prep.  I
even adapted some of my favorite recipes to be Paleo.  I know lasting changes take time and these 30+
days have helped me create a habit of being organized and prepared with the
right types of foods.  I am learning to
do Paleo all the way, with-out picking and choosing which "rules" to follow.  I have taken the full Paleo plunge, healthy
fats and all.  I have eaten a truck load
of vegetables cooked a billion and one ways. 
I have met my goal because I am living Paleo.  Having and reaching this goal of creating
healthier habits is far more rewarding than saying, "HEY….everyone, I weigh 110
pounds."  I did not weigh in because a
number on the scale can't tell me if I reached my goals.
                   At the end of this challenge, I am healthier,
happier and stronger.  I am not a
number.  I am a little less "saggy".  I am a 40 year old woman living a Paleo
lifestyle.  Even though I know I am not
Olivia Wild, I feel amazing and have a desire to continue with this change
knowing that there will be ups and downs. 
I've learned how to clean up my diet. I know that when I fall, I can get
back up and I am not lard of the earth.  My
success is evident to me and that is more rewarding than a number on the scale.  Wouldn't it be funny if I weighed exactly the
same as when the challenge began?  Would
I feel the same triumphal success if I didn't even lose an ounce?  No one will ever know.