Strength WOD:
Push Jerk
3/3/3/3/3
Checkout WOD immediately after:
For time:
Then alternate 21/18/15/12/9/6/3 reps of each:
Sumo Deadlift High Pull (75#/55#)
Push Jerk (75#/55#)
* Sumo must end with clear pull under chin and elbows above bar
**  Push Jerks must be a jerk then fully stand; no press or push press or it's a no rep!
Results
Mark locked out: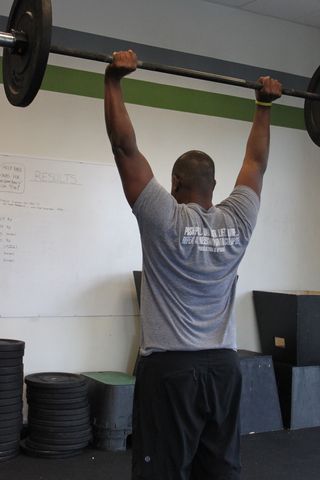 This WOD specifically calls for Push Jerks to train the jerk. Thus the reason we enforced the rule of no pressing it up, even if it's light. Training correctly at a lighter load should lead to a better technique when going heavier. The key to the jerk is not jumping up; it's jumping under the bar and locking out in one distinct motion.
Click on the linkto the picture of the day on CrossFit.com and the explanation beneath it for how you should finish overhead in a fully locked out position. Minimize that tendency to over exaggerate the lumbar curve when finishing and pushing the head "through".
Watch this video of a good split jerk at heavy weight. James Hobart at 305 pounds split jerk [wmv] [mov]
Notes:
Congrats and good luck to the group of you who officially started the Whole 30 Challenge today! It takes guts to make the commitment and discipline to see it through. Read here for what it is if you are unfamiliar with Whole9and their approach to clean eating and healthy nutrition. If you want to jump in it's never too late to start now!
Pet Peeves, "Tom-trum" Rant of the Day or things I hate: Airlines that suck. Specifically airlines that suck at the following: a) Flying b) Flying you to your destination when they say they will c) Flying all of your belongings that you checked at the counter along with you to your destination. d) After losing your belongings showing that they care and will get off their personal cell phone call to explain why your bag is getting a nice tour of the bowels of DFW airport all night
Have a happy Thursday everyone! Be fast, be strong, and be epic!