For time:
1000m Row
21 Dumbbell Thrusters (40#/25#)
21 Sit-ups
750m Row
15 Dumbbell Thrusters 
15 Sit-ups
500m Row
9 Dumbbell Thrusters
9 Sit-ups
Results
Quote of the Day from Rob re: CF Games Sectionals changes: "I think I'm gonna stop coming to the box and I'll do the WOD's on my own and just send in video to post my times."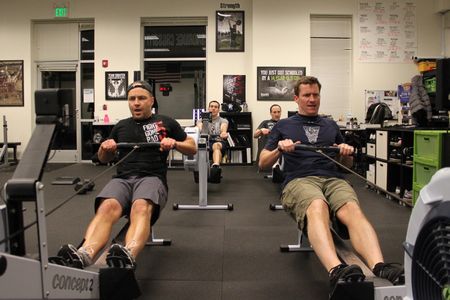 My favorite and most asked question in the box: "What's a thruster?" We heard it twice today. Being new is totally understandable, but what's funny is how often it gets asked by so many who aren't new. Simple answer? They are the devil. Real answer? They are a front squat combined with a push press. Doing them "DB style" is torture.
Matt and Dustin locked out:
Coaching Tip: Dumbbell Thrusters 
What do these CrossFitters have in common? 
All are resting the back of the dumbbell on their shoulder
Use the shoulder after you clean the dumbbells to rest and stabilize the dumbbell in the front squat of the movement
As you drive up and transition to a push press explode and drive the dumbbell's overhead
Return the dumbbells to the shoulder and continue into the squat of the next thruster
This helps to control the dumbbell and prevent the "crazy weighted windmill arm flailing" that can result in a dumbbell dropped on the toe or injured shoulder
Last tip: No throwing the DB's down, you can't control that bounce (See above bullet)
Squatch does CrossFit. Squatch can clean and jerk. Don't mess with Squatch: