Gymnastics Skill Work:
10 minutes to pick one and work on it!
Muscle-up
Kipping Pull-ups
Ring Dips
For Time:
1000m Row, then
5 Rounds for time:
15 Pull-ups
30 Air Squats
Results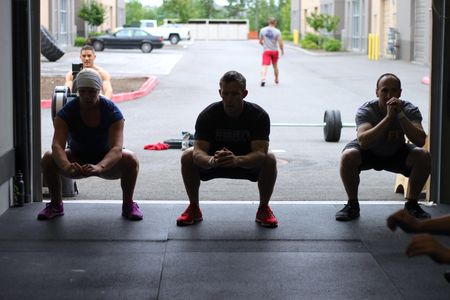 Rob wrote a blog post about keeping your box clean and it made me feel good to know others care as much as I do. 
"Keep Your Box Clean" by CrossFit Dad
We keep our gym clean. Organized and tidy. Things are where they should be and everything has its place. Equipment is top quality and from reputable companies. When we order something we buy it from a supplier that has a great reputation and is known to last (if you take care of it). I may be retentive about our gym and equipment but that is because who wants to work out in a pigpen? I have been to gyms where equipment is dirty, broken or poor quality, floors have a paleo-aged dust covering, and things are piled anywhere it finds a home. It sucks. I wouldn't want to pay for a gym that didn't show any pride in it's appearance or in the gear it uses to train people with. I certainly wouldn't want to train there. I think the quality of gear, cleanliness, appearance and organization of a gym speaks volumes about it's programming, coaching, dedication, and above all it's people.
While everyone mostly does a good job, here are some rules that I want to remind everyone of. When you come in each time, please respect our gear. Put stuff back where it goes, even if you didn't take it out. Plates go neatly in piles by the amount they weigh. Kettlebells go from smallest to largest. PVC's go back in the bucket. Plyo-boxes of the same type are stacked. Bands go back on the pegs. Ropes hanging up. Med balls on the shelf. Rowers on the taped lines. AbMats stacked neatly.
Educate the newbies. Clean up the blood, sweat and chalk mess you leave. Take your water bottle home with you or throw it out. Don't leave your jackets, shoes, kids toys, and anything else here. We really don't want it. Wipe down your gear after the WOD. Would you want to use something coated in someone else's sweat from an hour before?
Most importantly, don't BREAK or DAMAGE our equipment or building! Examples: That means no dropping barbells or putting them on the concrete, or throwing bumpers at the stacks so they leave holes in the wall. No THROWING the collars to the bucket. This is not the NBA and I don't care about your free throw. Those collars cost $45 a pair. Break a collar because you think you are LeBron and throw it instead of carrying it back to the bucket and we (i.e. you) are down a collar. If you can lift a barbell with weight on it then set it down when empty and don't drop it. This damages the barbells inside the sleeves on the bushings. Bottom line is stuff costs money. I want to not waste money. Please help us here.
Thanks for taking pride in the gym and thanks for being respectful of our equipment. Everyone loves a clean box! 
Note: I wrote this post before our evening classes. We had a minor mishap with a piece of broken equipment. This post was not directed at that person. That said I still want to share it because we don't need any more of these.
CF Games:
ESPN3 Schedule of the CrossFit Games Released
Max effort row: