Conditioning WOD:
For time:
500m Row
50 Wall Balls (20#/14#)
50 Hand Release Push-ups 
500m Row
25 Wall Balls (20#/14#)
25 Hand Release Push-ups
Checkout:
Back-to-back AMRAP's (As Many Reps or Rounds As Possible):
Max Reps in 2 Minutes of:
Knees-to-Elbows 
* Then complete
Max Reps in 2 Minutes of:
AbMat Sit-ups
Results
View this photo
View this photo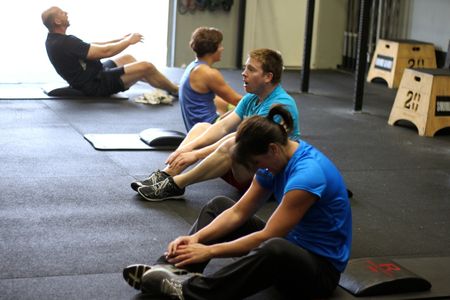 Seems some confusion was happening for a couple classes today. The WOD was the chipper of rowing, wall balls and push-ups. Then after everyone finishes, recover and do the checkout of "Beachbody abs" of 2 back to back 2 minute AMRAP's. For those who did everything straight through as one continuous workout with no recovery, think of it as character building plus some extra "fitness" sprinkled in. (Note: I'll be more clear in my programming directions to avoid some epic combo WOD in the future)
The following preview is of a movie I personally cannot wait to see. How is it related to CrossFit? It's the true story of Marcus Luttrell, the lone survivor of Operation Redwing. It's the story of the deaths of some of our bravest and finest warriors serving in Afghanistan and those who went to rescue them; three of whom happen to have CrossFit Hero WOD's named in their honor (Murph, J.T., Michael). This comes out in January. I'm open to anyone interested from the gym in seeing this as a group.
Video: Lone Survivor Trailer