Skills WOD:
15 Minutes to practice:
Gymnastics skills and progressions: Muscle Ups, Handstand Walks, Holds and Freestanding HSPU, Ring Dips, L-Sits, Backward Roll to Support, etc.
Conditioning WOD:
AMRAP (As Many Rounds As Possible) in 20 Minutes of:
8 Burpees
10 Kettlebell Swings (53#/35#)
12 Air Squats
Results
View this photo
View this photo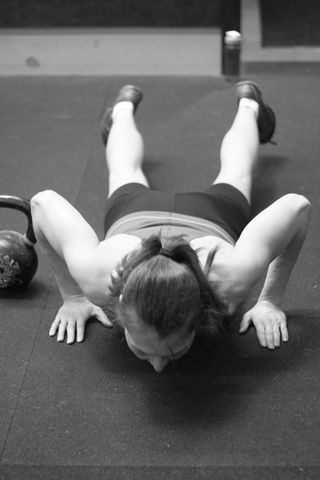 Skill work today was a great opportunity to work the many components of the above movements, as well as time to focus on the building blocks for muscle-ups, dips or handstands. For our resident gymnasts Matt and Rob W. they just spent 15 minutes trying to outdo one another with their Cirque du SnoRidge routine. After that was a good 20 minute work capacity test of how much you wanted to keep moving and not rest. 
Congrats to Saer on his 100th WOD!
Last day tomorrow to make up the Stop the Slop Performance WOD!
"Behind the Games: 2013" Part One preview – video [ipod] [mov] [HD mov]
"Behind the Games: 2013" Part Two preview – video [ipod] [mov] [HD mov]