Strength WOD:
Thruster
3/3/3/3/3
Check Out WOD Immediately After:
As Many Rounds As Possible in 10 Minutes:
3 Thrusters (95#/65#)
5 AbMat Sit-ups
10 Double-Unders
Results
Cristin getting strong: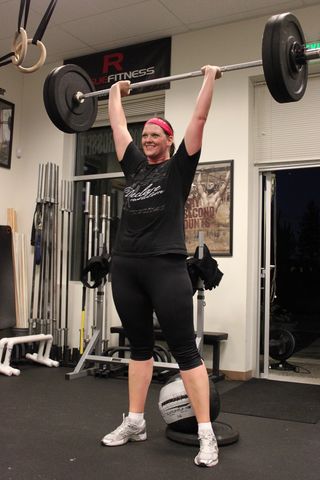 Quote of the day: "Today is my 1 year anniversary, 162 WOD's." ~ Marc
"That is a lot of time to spend with Tom." ~ Jenna
Congrats to Marc for hitting his 1 year anniversary with us and CrossFit. Some brief highlights: Marc is able to do quite a few new things from when he started; run a 7 minute mile, jump a 24″ box, squat full depth, lift obscene amounts of weight, do push-ups, and almost do a pull-up compared to a year ago. He has completed three nutrition challenges and switched to a Paleo diet. He's lost 60+ pounds, is no longer on statins, BP and resting heart rate all within normal, bodyfat significantly down, lean muscle mass up, and has a totally new wardrobe!
Before (1 year ago):
After:
Food For Thought:
Celiac Disease Can Develop In Adults – LA Times
Celiac Disease – Wikipedia
Fueling for Performance – Chef By Request
Coverage of the CrossFit/USAW Open:
The CF/USAW Open Will Stream Live For Free