Tabata Intervals:
Perform 8 intervals of max reps for 20 seconds work followed by 10 seconds rest of the following exercises in sequence. Score is lowest number of reps for a given round. 
Box Jumps (24″/20″)
Kettlebell Swings (53#/35#)
Air Squats
* 1 Minute rest between exercises
Following the WOD:
2 rounds for time of Dead Hang off Pull-up bar
* or
2 attempts at Max Rep Muscle-ups (single effort)
Results
View this photo
View this photo
Today was good for some Tabata torture and feats of grip strength: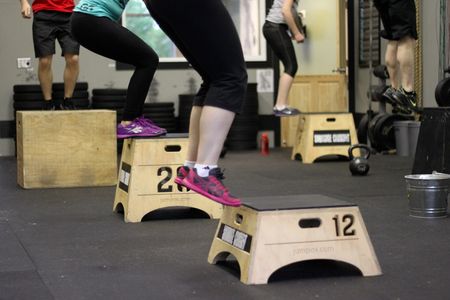 "For the Fun of It: Samantha Peterson" CrossFit Games
Nutrition:
For a half Asian guy who follows a paleo diet it means no rice, no soy sauce, nada (unless it's a cheat meal). Giving up soy sauce sucked until we found coconut aminos. Fish sauce is another ingredient that is vital to some good curry, except it has sugar. This is awesome news. It's time for some Paleo Pad Thai! 
Whole30 Approved: Red Boat Fish Sauce
 Hang on for dear life!