Happy Birthday Mark!
3 Rounds For Time:
400m Run
28 Overhead Squat (95#/65#)
28 Box Jumps (24″/20″)
* 20# Vest optional for Birthday Boy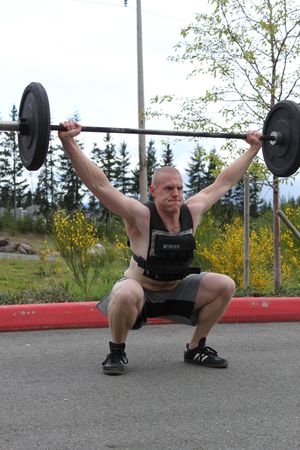 Results
View this photo
View this photo
Mark AKA "Zohan" (for his Zohan movie character like abilities) levitates!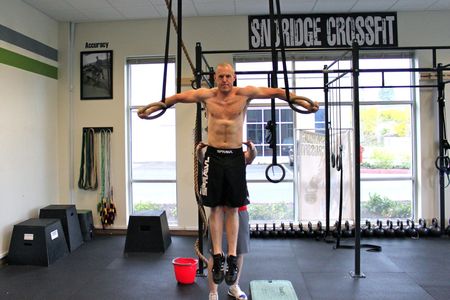 For those new to the Birthday WOD it is somewhat of a CrossFit community tradition to have a WOD on your birthday that revolves around your age or birthdate, includes movements or elements you both like and hate, and it must be tough. That said I messed up today. I changed the WOD last night after giving it a dry run but didn't get word to Moe in time for the morning crew. So you all got to do "take 1" of the WOD. We changed it for the rest of the day to the revised version (above) that simplified it but made it tougher by extending the runs and overhead squats, and added the box jumps to further fry the legs. The weight vest provided a more advanced challenge that made breathing and box jumps much harder. 
Mark is pretty much a beast no matter what we throw up on the whiteboard; however after some helpful hints (from Jeremy, Kim, Moe, and Michelle), we settled on a WOD that was two parts of what he doesn't really like (running and OH Squats) and two parts what he does like (box jumps and weight vest). Happy birthday!
Finally! Video of Jana's 1st Pull-up and Mark and Steven's big box jumps:
Max Effort Day: 1st Pull-up and Box Jump Madness from Tom Nugent on Vimeo.
Tire Jump Fun: