Sean busting out 174 reps for the 2 minute Double-Under Challenge at the windy Wild Horses Monument at the Columbia River Basin Scenic Overlook: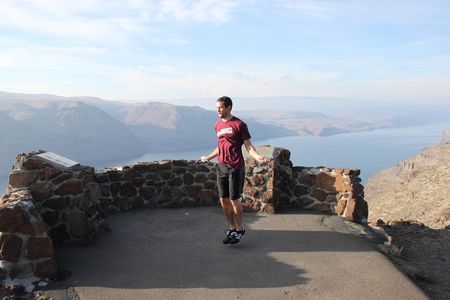 Sean and I returned today from Spokane where we completed the USA Weightlifting Level 1 Sports Performance Certification. We spent the weekend having fun reviewing Oly lifting basics for a day and a half, and lifting a little weight; all while filling the time chilling out, searching for good food, a spicy hotel WOD, a rest stop challenge, lots and lots of coffee, plenty of fast food chain and gun shop sightings, and a chance meeting with Buddy the Elf's sister at a downtown Starbucks. Seriously, she worked there. Straight from the North Pole, she was amazed we were from the "city" where things must be "shiny and sparkly". All she needed was the yellow tights and green hat. Were it not for our like of road trips, CrossFit and all things mundane we might have gouged our eyeballs out over there. 
Seriously we did have fun, learned some new cues and progressions, and realized the quality of the CrossFit certifications we have attended has set the bar high. Simply put while this cert was valuable in it's own way, it doesn't hold a candle to the CrossFit Olympic Lifting Certification. That said we are glad to have learned what USAW provides coaches and athletes in the way of tools to better teach as well as learn the skills required for weightlifting (AKA the Olympic Lifts). 
This week has some great WOD's in store and will start incorporating a few advanced skills and lifts needed to work on for those thinking of Sectionals. On Saturday the class format will have a Sectionals Prep WOD and a General WOD. For those desiring to compete in February (tentative date), then the Sectionals Prep WOD will be for you. By the way, you need to let us know if you plan to compete as our "training camp" will be starting soon and I want to know who this includes so I can evaluate skills and program accordingly. The rest of the week will cover AMRAP's, Oly lifts, gymnastics skills, a benchmark, strength work, and a birthday WOD. Who's ready for some fun?