4 Rounds for Time:
200m Run
15 ft. Rope Climb (2 climbs Men / 1 climb Women)
11 Deadlifts (225#/155#)
35 Double-Unders
* Sub 8 pull-ups per rope climb to scale
Results
Birthday Climber: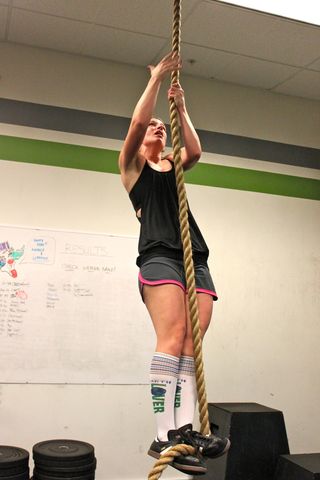 Happy Birthday Rona! Time for a little birthday WOD. She hates double unders, loves rope climbs and doesn't mind deadlifts unless they are heavy. Today these were heavy for many. Good to see several of you tackle that rope. I saw three different leg/foot combinations tonight with Dustin, Michelle, and Sean and all were effective. While there are many different styles to climb a rope, pick one or two techniques, practice them and use those feet and legs.
Next week we will have a joint birthday WOD for Lorraine and Andrea (they shared the same birthday yesterday) so looks like I need to get creative again. 
Travel Notes:
Jorge is on the road this week for work and made the website of CrossFit Fresno. He dropped in and drew one of his favorite WOD's: "Grace". I think I should have emailed them and asked them to make it "Griff" since we know how much he loves running.
When you travel or go on vacation it's pretty likely you will be able to find a CrossFit affiliate nearby. Check in advance on the Affiliate Blog to see where you can visit and fit in a drop in WOD. Usually the policy of most good boxes are welcoming to drop-in's of experienced CrossFitters, and they usually charge either a small drop-in fee or ask that you buy a shirt. Michelle and I regularly drop in at a box on virtually every single trip or vacation that we can fit in time for a visit. For sure we always fit in a WOD, but who wants to work out in a hotel "fitness" room when you can instead walk into an affiliate filled with other CF'ers who are just as eager and at the same time sick to their stomach terrified of what their daily workout is going to be? I love it precisely because of that feeling that someone else programmed the daily workout, as well as it's a chance to meet others in the community and make new friends. For those about to go on vacations, consider a local box and drop in for a workout. 
Nutrition: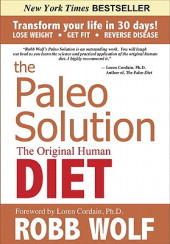 We have 2 "loaner" copies to check out of The Paleo Solution by Robb Wolf. If you are interested, you can check them out via the SnoRidge Library. See me or Michelle. You will get 3 weeks to check it out and then it needs to come back home for the next person. I highly recommend this book. It literally can change your life!