For Time:
1000m Row
50 Hollow Rocks
30 Burpees
50 Romanian Deadlifts (45#/33#)
1000m Row
Results
View this photo
View this photo
Anapurna and the Romanian Deadlift: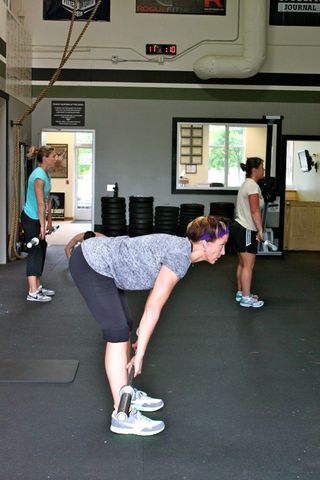 The Romanian Deadlift. This lift is a movement of the hip. Begin in the hang with the barbell or dumbbells.
Stand Tall with a slight bend in the knees; not stiff legs
Push the hips backward first
Lower the weight toward your knees, keeping your hips going back
Flat back, maintain a lumbar curve or at least flat back with tight core muscles
Weight is on the heels and shoulders are back, bar or db's stay close to the body
Stop before losing your lower back position and when you reach your hamstring range of motion; ideally slightly below the knee
Return to the start position by reversing the movement
Stay in control and don't rush it
Read "5 Reasons Why Deadlifts Are Killing Your Lower Back" – Stronglifts.com
Hollow Rock with Greg: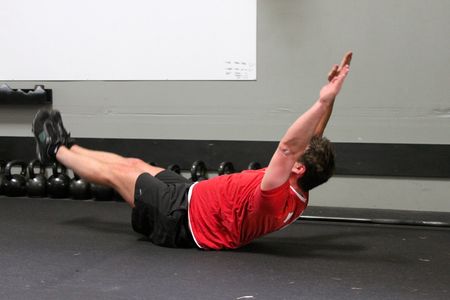 Rower Fail. Warning! Rowing this way will guarantee that your coach will punch you in the face:
Notes:
CF Kids and regular class tomorrow at 0930! Advanced RX class at 1045. Be ready to work! Don't be late!
Who's up for the Railroad Days 5k, 10k or Kids 1k in Snoqualmie in August? Let's get a SRCF team running! 
Details:
In less than seven weeks, the 4th Annual Snoqualmie Railroad Days 5k, 10k and Kid's 1k will take place on Saturday, August 20 in historic downtown Snoqualmie, WA.
To register online CLICK HERE. Online registration closes on Monday, August 15th.
More info at www.runsnoqualmie.com
Register In-Person: At FootZone in Bellevue, Issaquah or Redmond. In-store registration ends on August 14th.
Pre-registration Cost

Kid's 1k — $10 (includes cotton t-shirt and a finisher's medal)
5k/10k — $25 (includes nice tech shirt)