Strength WOD:
3/3/3/3/3
Push Jerk
Immediately following complete AMRAP (as many rounds as possible) in 8 minutes of:
3 Push Jerk (135#/95#)
6 Jumping Lunges (1 rep = 2 jumps or both legs)
9 AbMat Sit-ups
Results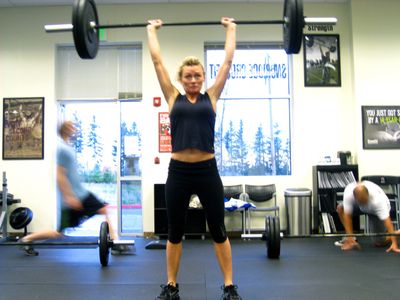 Strength focus day. Each week we spend one day where the bulk of the class works on building strength with either an Olympic lift or basic barbell movement. The benefits are many: a focus on proper technique and form improvement in a slower paced workout, partner coaching, opportunity to build strength and determine your 1, 3, or 5 rep max, a base you can build upon for more complex movements, and improved strength and conditioning which will only lead to faster times and increased level of fitness. Strength WOD's are what make the loads in everything else seem "light". Don't skip them! We will usually follow the strength portion with a short high intensity workout that gets the heart pumping.
Some great accomplishments all around today including Lyndi, Lorri and Moe all push jerking 100 plus lbs. and Jim C. getting 225 lbs.! Congrats to Eli for banging out 4 straight kipping pull-ups for the first time after the WOD with NO band!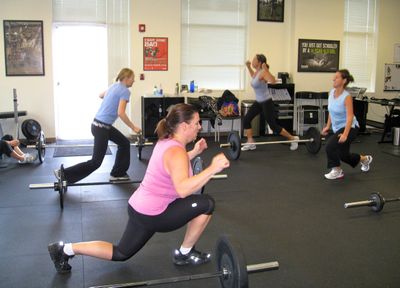 Notes:
Attention parents! We need your help! In the interests of safety and ensuring that everyone in the gym can focus on the workout please explain to your little ones to please stay and play quietly inside the "Squatch Cave". There are plenty of cool toys, books and movies to keep them occupied. We also need to ask that kids refrain from playing outside unless you understand its at your own risk. Although the "Squatch Cave" is an unsupervised area it is a contained space that allows you to be able to keep an eye on them while concentrating on your WOD. We want to make sure you have an option to bring them while working out but also want all our kids safe and following some basic rules that keeps them off the workout floor and out of harm's way.