Quote of the Day: "Friendships born on the field of athletic strife are the real gold of competition. Awards become corroded, friends gather no dust." ~ Jesse Owens
Brad back squats: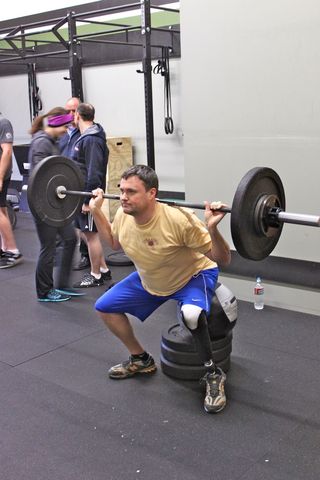 Strength WOD: 
In 20 minutes, find your 3RM of the "Bear Complex": 
Each rep or complex consists of 1 of each of the 5 lifts in order. Complete 3 consecutive reps or complexes of the following sequence:
Power Clean
Front Squat 
Push Press or Jerk
Back Squat 
Push Press or Jerk 
Rules: 
Bar must touch the ground each sequence but cannot rest on the ground or it terminates the set. 
Goal is to increase loads each round to complete "The Bear" with a 3 rep max load.  
Rest as needed between sets; remember you have 20 minutes.
No re-grip allowed.
You must power clean the bar to full standing position before squatting the weight. (Deadlift to Hang Power Clean) is allowed. No squat cleans.
Checkout WOD:
2 Minute Burpee Challenge:
Max reps burpees in 2 minutes 
Results
View this photo
View this photo 
The "Bear Complex" sequence with Katie and Nan:
The CrossFit Games Open website is now live. We have 13 athletes participating this year! Besides Michelle and myself we have Moe, Mark B., Jeremy D., Pat, Rob, Rona, Jeremy O., Matt, Lucy, Sean and Don all registered for Team Squatch.  On Tuesday 3/15 it's "Let the Games begin!"
Two upcoming events this Saturday 3/12!
– SRCF Grand Re-Opening Potluck, lulu Trunk Show and Box Open House: 
NO 10am class!

11am-3:00pm Saturday (this will allow for those of us running the St. Patty's Day 5k)
Bring a dish and do a WOD. We will run a WOD in waves as teams are ready.

WOD: "Tag Team Grande Grace" 
Teams of 2 (or 3) complete 90 Clean and Jerks (135#/95# as RX'd) for time!

Hang out, bring a friend, socialize and have a good time with your fellow CrossFitters
Trunk Show is a Trunk GO!: 

lululemon athletica mini-Trunk Show upstairs from 11am – 3pm
Styles include: 

Women

: groove crop, wunder under crop, groovy run short, cool racerback tank, run swiftly tech top, all sport bra or 50 rep bra, headbands, socks

Men

: core short, formula pant, run: response short, sideline short sleeve tech top, boxers, socks and waterbottles
– Finaghty's 5k and Kids 1k St. Patty's Day Race in Snoqualmie Ridge: Let us know if you are running!
Additional race details are below or at www.runsnoqualmie.com
Friday, March 11th at FootZone from 1-6pm (Issaquah Location ONLY)
Day of Race Registration – Begins at 7am at Start Line on Center Blvd on Snoqualmie Ridge
Race Day Schedule
7:00-8:45a.m.- Bib Number Pick Up & Day of Race Reg 
9:00 a.m. – Start of Kids 1k Run
9:15 a.m.- Start of 5k
Heidi and Lisa get burpee-licious (Welcome Lisa and Ryan to the box!)