"Our workouts are competitive events. The strength and value of CrossFit lies entirely within our dominance of other athletes. This is a truth divined through competition, not debate." ~ Quote across the wall of the Stadium.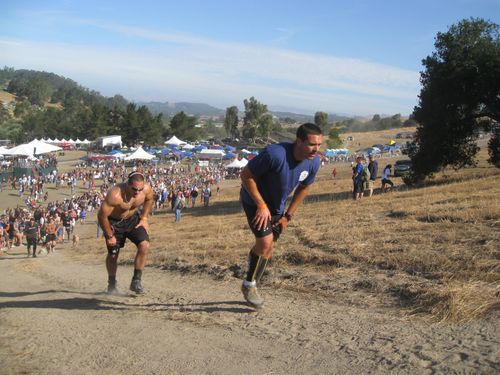 Hard to believe it's over. All the hype, anticipation, excitement and action has come to an end. We are home and still stoked over a great weekend at the CrossFit Games in Aromas, California. As fans, spectators, and CrossFitters it mostly lived up to our expectations. Were there areas for improvement? Sure, but they are minimal overall. The coolest part was what we were there to witness. We saw human performance pushed to the limits, saw sportsmanship and community in action, and most of all saw some of the fittest folks around inspire us to get back to the gym and work harder.
Each day was spent soaking in the sun (or trying to hide from it) watching numerous WOD's whittle a large field of international competitors down to the fittest man and woman and affiliate on earth. Michelle and I went with two of our best friends and could not have had a better time (unless we stayed longer). There's a funny bond and recognition among CrossFitters. Kinda like how when you board the plane you and they can instantly pick one another out. Or how you run into them at the Trader Joe's cleaning the place out on the drive there. There's nothing quite like going to an event where you truly share a common bond with everyone in attendance. Total strangers are like family or at least distant cousins. Everyone there is rooting to see the top two individual and team winners while at the same time cheering louder for anyone struggling to complete a workout. We met loads of new faces and also connected with several friends down there from several affiliates. 
The WOD's were many and they were brutal. Friday consisted of the
Affiliate Cup
that whittled 97 Affiliate teams down to six. Each team completed three WOD's and the top six advanced to the finals on Sunday. 
Saturday was the individual competition and consisted of five WOD's (yes five). They were (in order):
"The Run From Hell": 7.2km Run (with mostly hills). These hills are not what you and I consider hills. I consider this mountaineering.

"Storming Deadlifts": This WOD was 20 bars loaded from 315lbs. to 505 lbs. for men and 185 to 375 lbs. for women. Each athlete got 20 seconds to successfuly complete a deadlift and then 10 seconds to move onto the next higher weight bar in the deadlift ladder. It began 20 minutes after the run completed and went in reverse finish order. Meaning the last place runner went to the one rep max deadlift first.

 After these two WOD's 10 men and 10 women were cut.
"Sandbag Hill Sprint": Almost 175m sprint straight uphill with two 35 lb. sandbags for men and one 35 lb. for women.
"Blue Collar WOD": Row 500m, then use sledgehammer to pound a 4 ft. pole into the ground and then row another 500m. This WOD truly exposed a lot of people. Technique and experience made a huge difference and most of those with firefighter or construction background dominated. 
"Savage Snatch and Throw": 3 rounds of 30 each of 10.5″ high wallball and squat snatch (75 lbs./45 lbs.). How these athletes were still functioning at this point is a testament to their physical conditioning. Many wallballs weren't counted as the judges had to see "wood" under the wallball so just hitting the target wasn't enough. 
After a really long Saturday that ended at night the final 16 men and 16 women advanced onto the finals for Sunday. The pain they must have felt the following morning is something I can't imagine. Walking around the athletes all looked like candidates for a Celebrex commercial.

Sunday's WOD's:
"One Rep Max Snatch": Athletes were given ten minutes to get their max lift overhead without stopping at the shoulders. It was exciting and scary stuff as barbells crashed in front, behind and even on top of some heads.

"Over RX'd AMRAP": This WOD was As Many Rounds As Possible for 8 minutes of 4 parallette handstand push-ups, 8 vertical kettlebell swings with the bell having to point up to the sky to count (70#/54#), and 12 GHD Sit-ups where both hands must touch the ground. Many really struggled to even get a full round or two while a few like Jolie and Khalipa rocked it.

"The Sweet 16 Chipper": This Chipper was a modified version of the Affiliate Cup final event that took place before this WOD. For the individuals you can see what the WOD was here. For all intents and purposes this makes the Dirty Thirty look like a warm-up. The muscle-ups were a big struggle for some as well as the burpees. Three international comeptitors actually learned a new movement right before the WOD when it was announced. Two athletes (one man and woman from Iceland) had to learn a muscle-up and while they didn't complete the workout and it effected their ranking they still got some and the whole crowd was cheering them on. The eventual men's champion Mikko Salo was taught the double-under just before the workout. Amazing.
When all was said and done the champions were crowned and it came down to the last event for both men and women to see who would prevail. Many favorites were knocked out early and many unknowns came in and dominated. The men's champ (Mikko Salo) was a David Beckham clone from Finland while the women's champ (Tanya Wagner – who placed 2nd in last year's Games) was from Philly, PA. A surprise to many, the international CrossFitters showed the world they train as hard as anyone and that CrossFit really is now global. 
Click
here
for a free article on the CrossFit Journal that wraps up the weekend. Overall while many things can be debated about the scoring, WOD selection and grouping, timing of "cuts" and even just plain bad luck; you can't debate that the two winners were definitely the World's Fittest Man and Woman. They represented the ten domains of fitness and were the most well balanced of the athletes.
Scrambling to get home it was a unanimous decision that the weekend was well worth it and full of good times and good memories. We vowed to come back next year and watch the individuals as well as field our own SnoRidge team for the affiliate cup. So train hard and get ready. We only have a year…