This past Saturday was the Stoneway CF Resolution Revolution 2012 team throwdown. SRCF had 3 teams competing (one team was a SRCF and CF Basic mash-up) and all did quite well. Out of over 20 teams Rob and Rona (Team RoRo) took 10th place, Jeremy and Michelle (Team Nuts and Butts) took 4th, and Mark and Amy (Team Shark Sucker) landed on the podium with a 3rd place finish. All won some prizes and had a great time throwing down through two team WOD's. (Click on the link above to see the workouts) 
Besides our competitors a huge thanks goes out to Greg, Lindsay, Liane, Debra, Dustin, and Kim who all volunteered or were there as cheerleaders through the rain, sleet, snow and sun. It was awesome to watch everyone represent Team Squatch and also see the fun that team WOD's produce. Congrats!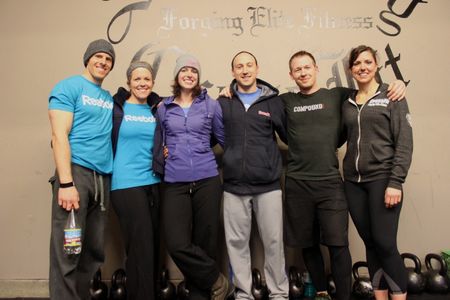 Speaking of teams, for those interested in team events on 2/11 is another two WOD challenge. I have been working with CF Gravity Janes the past two months (they created and are leading the whole effort) and several other local area boxes to put together a local CrossFit league. To get things started they are hosting a throwdown on 2/11 at GJ's. It will be an event with teams of 4 competing (2 men and 2 women) and it will be one of two test events to work out the kinks for what will become our own "CrossFit League" later this spring/summer. It is going to be called Box League Northwest and the plans are for an inter-box league running from June to September (dates may be adjusted).
My hope is that Team Squatch will field a team of 6 individuals (possibly a 2nd if there is interest) and it will need to have an equal number of guys and gals who can RX most workouts that could come our way. One Saturday each month there will be a home and away team that "plays" each other by competing in a couple WOD's. There will be a buy-in for each team member to join, prizes, a website, casual atmosphere, and a commitment to having fun and building community. A schedule will eventually be published on the website to be created and teams will compete with those on the team that can make each event. Each team will have a captain that serves as overall lead and person who decides which four tackle each event in a given match. I plan on initially serving as team captain and will be looking to build the team(s) for our box.
What better way to stay focused on training, get some healthy competition, and grow camaraderie? More details to come. Stay tuned and let me know if you are in for either 2/11 or later this summer.