Strength WOD:
Snatch one rep every minute on the minute for 15 minutes.
Score highest and lowest loads (Sub Power Snatch and Overhead Squat if you cannot perform a full Squat Snatch)
Immediately after complete the following Checkout WOD:
5 Rounds for Time of:
4 Overhead Squats (95#/65#)
20 Double-Unders
Results
Justin PR'd his snatch today: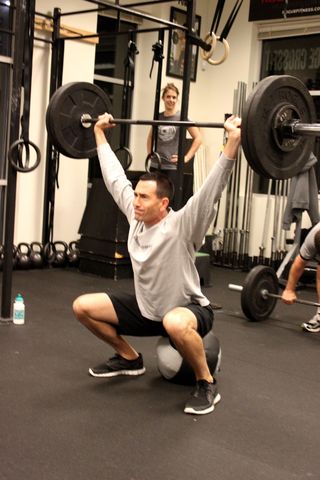 CFHQ Trainers James Hobart, Chuck Carswell, and Heather Bergeron demo the Snatch WOD [wmv] [mov]
The Snatch is one of the two Olympic weightlifting movements and the most technical of them all. It takes great skill, practice, concentration, speed and commitment. It also requires an ounce or two of courage. Pulling under a heavy bar can seem scary, but if you build on the right technique and cues at lighter loads and ingrain those movements then over time fear will be replaced with confidence. For those not ready for the snatch, work on the power snatch or hang snatch and then the overhead squat. Be patient!
Today we tried a recent main site WOD format that we have never done. A twist on the "every minute on the minute" format this one also allowed for staying at one rep but continually pushing to establish that 1RM and manage your weight changes in a tighter time. It turned out to be a truly fun format and one we will use again. After that strength work we ran through a quick checkout to build on overhead squat technique that will translate to stronger snatches.
Basic steps to success on the Snatch:
Good set up stance and start position (feet under bar, shoulders in front of bar, wide grip, elbows out, back flat, deep squat)
Clear your mind and picture success, take a deep breath
LIft off: Weight on heels, hips and shoulders rise together, elbows out, stand
Passing the knees: Shins are vertical, head neutral, pull to extension
Triple extension: extension of knees, ankles, hips while arms are still straight
Pull under: Jump aggressively under bar as arms bend
Catch: Feet hit while hands and arms lock bar overhead, ride into overhead squat
Stand: Drive up out of the squat with feet coming in line and bar locked overhead
Olympian Chad Vaughn and the Snatch:
Sean snatches: