"Tag Team Grace":
In teams of 2 or 3 complete for time:
90 Clean and Jerks (135#/95#)
Rules:
Share a bar or scale accordingly
One athlete works at a time
Results
1st Wave: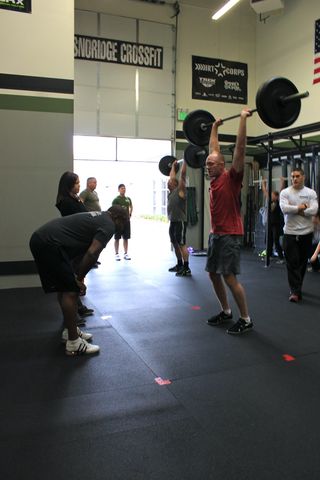 What a fun day! We hosted our official Grand Opening party at the new box even though we have been in there full swing since February. After a morning at the St. Patty's Day race (Kids 1K and Adults 5k) cheering on our kids and their "Usain Bolt-like" parents we moved over to the box for a party CrossFit style: Paleo food, WOD, socializing, and clothes shopping! 
For those who ran the St. Patty's Day 5k here are the 5k Race Results 
Big thanks to all of you who came out as well as those new friends who dropped in with a fellow SRCF athlete to check the place out. Thanks also to all the judges, kid-sitters, cooks and clean up crew. Last but not least thank you to Petra and the crew from lululemon athletica for setting up a last minute trunk show. You all are first class!
It's crazy to think we are in our 3rd box. I remember starting in the garage in early 2009 and applying for affiliation like it was yesterday. We still have the voicemail from CFHQ saved on our phone saying congrats on our affiliation. I can still remember picking up that first truckload of 6 mats and thinking it would give us a ton of space for dropping barbells. Two moves and a CrossFit sh*t-ton of stall mats later and we are on the next phase. We are excited about the years ahead and hope you are too!
Video of some of CrossFit's elite crushing "Team Grace" at the Arnold Classic last weekend: