For Time:
200m Run each round (start and finish with a run)
Push Jerk 10, 9, 8, 7, 6, 5… down to 1 
The push jerk is a new skill that requires a little more coordination than the push press.  Many of you worked on technique and form today over adding weight. As you gain confidence the heavier load will help you learn to "dive" under the bar into that quarter squat or dip to help get it overhead.
Michelle and I just completed a kettlebell workshop with Tom Corrigan at CrossFit Bellevue that focused on practical instruction of the one arm kettlebell swing, snatch and clean. Over time we will teach you all what we learned and incorporate some of it into WOD's.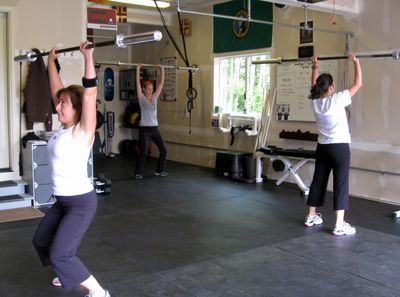 Welcome to Dan who completed Elements part one today!  Dan is a local CrossFitter that will soon be joining us a couple times a week for class.